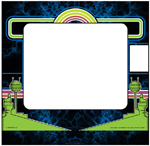 I had to give a shout out to Jamie and his "Noise Land Arcade" who is in the final stages of making some reproduction bezels for the classic arcade game Moon Patrol. Jamie started this project because he could never seem to find a bezel in good condition.
The vector artwork on the Moon Patrol bezel was pretty straightforward, but the lightning type pattern in the background night sky was the real achievement. Jamie separated out the vector pieces and the raster pieces and worked on them separately. The raster artwork on the bezel was intense, I don't know how he struggled through touching that up to a point where the Moon Patrol bezel could be reprinted, but he did an awesome job. Here is what he says on his website;
I'm getting very close to finishing my Moon Patrol restoration. I got the cabinet back in December of 2006. Since then I have been looking for a decent bezel on eBay, and was having a hard time finding one. They just don't seem to turn up for some reason. I finally found one recently, which was in horrible condition.

I contacted Rich from ThisOldGame.com. He makes great repro art for Space Invaders, Burgertime, and other games. He said he would reproduce these if I can get him a good vector drawing of it! So, I'm now in the process of working on the redraw/cleanup for this using Photoshop and Illustrator. It's coming along good so far.
Above is a larger view of the whole completed Moon Patrol bezel, and here is a smaller view showing the detail put into both the vector and raster portions.

Good job Jamie. Can't wait to see the final product. Rich at This Old Game is doing the repros. Knowing his great work, I am sure they are going to be great. I can only imagine there are a ton of other collectors out there with their partially completed Moon Patrols who are going to be geeked to get one of these
Here are some similar arcade posts
If you enjoyed this post, please consider to leave a comment or subscribe to the feed and get future articles delivered to your feed reader.