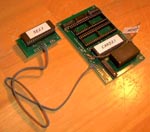 There was a reason, that I can't disclose right now, that I wanted to get Mike Doyle's 96 in 1 Multi Pac kit for my Ms. Pac-man. I have been wanting this for a number of months because although I love Ms. Pac-man, it was always been one of my favorite arcade games, I need to breathe some new life into the gameplay.
The 96 in 1 Multi Pac Kit is just the way to do it. A lot of collectors get multi-kits for their coin-op games because it gives you some variety in gameplay. Most arcade game collectors don't seem to like MAME either, and this is a way to get around having a MAME machine.
This particular kit comes with every darn possible variety of the Pac-man maze style arcade game you can imagine. Most are variations on the originals, Ms. Pac-man, Pac-man, etc. etc. But there are some video games on the kit that you wouldn't expect and are completely unrelated.
Ms Pac
Ms Pac Plus
Ms Pac Attack
Piranha
Mr. & Mrs. Pacman (new!)
Pengo
Pac Junior1-4
Pac Baby1-2
And the game list goes on and on. 96 total variations and games. But probably the coolest part are the features of the multi pac kit. I will list the kit features I am most interested in;
High Score save in NVRAM
Selectable Speed
Start on any level
Difficulty
Screen Saver
I love the high score feature, and I can't wait to use the start on any level feature on some of the games, especially Jr. Pac-man. I have only beaten level 6 in my dedicated Jr. Pac-man once, and could use the practice on the last three levels.
Plus, I know a lot of people who play the games will want to set the difficulty and change the speed of gameplay.
The 96 in 1 Multi Pac kit should arrive hopefully sometime on Thursday or Friday and I hope to get it installed in my Ms. Pac-man right away. Thanks Mike Doyle.
Here are some similar arcade posts
If you enjoyed this post, please consider to leave a comment or subscribe to the feed and get future articles delivered to your feed reader.