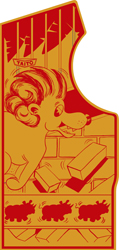 There was a topic recently on klov about someone wanting to get the sideart from the Taito arcade game Zookeeper vectorized so that they could make stencils.
I posted on the Zookeeper Stencils topic, mentioning that I could do the vectors, but I wanted to see the sideart scan to see how complex the artwork was. The Zookeeper artwork is very complex, with all of the little splatters, and the irregular line work. I posted on the topic asking how bad the party wanted the vector tracing of the sideart, but I never heard back.
I was surfing the other night and came across VectorZorg's artwork again, and noticed that he had about 70% of the Zookeeper artwork already vectorized. The only part he didn't have finished was the splatters on the sideart.
So I emailed him and started a dialog to see if I could get a copy of the file that he had and finish the remaining splatter effects. He emailed me back asking who was interested in the Taito Zookeeper Stencils, and I sent him a link to the thread.
You can see a larger version of the Zookeeper sideart if you click the thumbnail. I just took this from VectorZorg's website. I'll post any updates if I get them here first.
Update Nov. 18, 2008
Due to some unforseen health issues, Brian Jones has some time on his hands and it appears as if he is about one hour or two into finishing up this piece of vector artwork. All that was left were all the little textured blobs on the bricks, moon and everywhere else.
My guess is that stencils for re-painting Zookeeper artwork will be available sometime in late January of 2008 if not sooner. Will keep you posted as I find out more.
Here are some similar arcade posts
If you enjoyed this post, please consider to leave a comment or subscribe to the feed and get future articles delivered to your feed reader.