Today I had a chance to finish up the "eskimos" Pengo control panel overlay. Here is the small image of what it looks like;

From my original to-do list, here is what is left on this vector control panel;

1. The Upper Right Pengo and Sno-Bee are a mirror of the left side. The artwork is a touch different as well, take a look at the circled portions (Click photo for larger Pengo detail image). Mostly differences in the motion lines by the Sno-Bee. If I do a retrace, it won't be just on the partial sections, but over the whole piece. I will have to take votes on what people think and whether I should trace the right side as well.
To me, the original intent was probably to have the Pengo artwork be the exact same, but the methods to do so were a little difficult to be exact. I would leave it if it was up to me, but you guys will be buying the Pengo reprodutions, and I want you all to be happy. I can kind of guess what your thoughts are going to be. Voice your opinion in the comments section below.

2. I think there are some color separation discrepancies from the original control panel overlay. Click on the photo below for a larger version. The Sno-Bee on the left is from the upper left on the control panel overlay, the Sno-Bee on the right is from the Pengo Bezel. I think that the eyelid on the control panel overlay (on the left) should be solid purple, just like the eyelid on the right is solid red. I want to hear what you think, leave comments below. If I don't hear anything, I am going to fill in the Sno-Bee eyelid with purple.
I ended up matching the font used in the text on the Pengo control panel to be Helvetica. This is a pretty standard font used in many old arcade games when talking about instruction text, so I tend to do a comparison with Helvetica first before trying other methods to match the font.
Next piece of Pengo artwork to vectorize?
I would like to hear from people on what piece of Pengo artwork I should move onto next…
1. The standing version of the Pengo Marquee?

2. The "Numerals" version of the Pengo control panel overlay?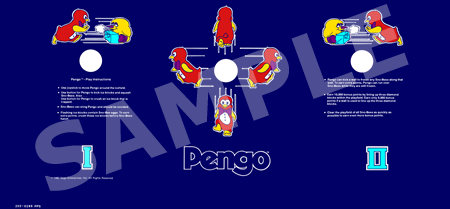 3. Or should I work on tracing the Pengo Bezel?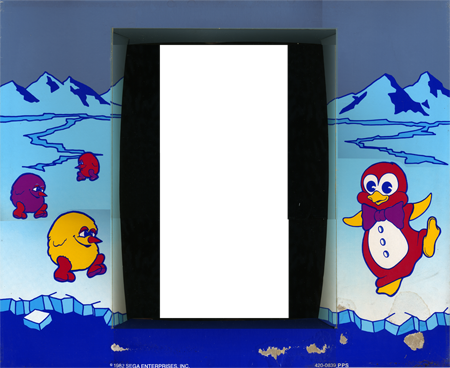 Leave your comments below by listing the number of the Pengo artwork you think I should tackle next.
Here are some similar arcade posts
If you enjoyed this post, please consider to leave a comment or subscribe to the feed and get future articles delivered to your feed reader.