It started snowing last night, and when we woke up we had a fresh 2-3 inches on the ground, the first snow of 2007 in Indianapolis, IN. This is the first time that Nokes is seeing snow, so we were curious what he would do.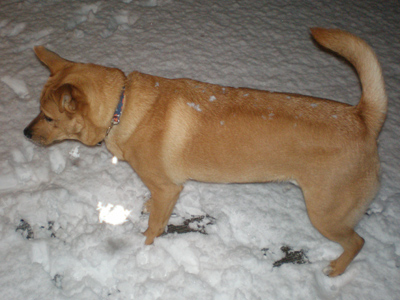 He handled it pretty well. He would drag his nose through the snow, moving with his snout submerged, and then when Sarah would move around and he would hear the crunch of the fluffy powder under her boots he would follow the sound.
He did try peeing on the deck, and no, that isn't going to fly:)
Later today, when I took him on a walk, and there was ice on the ground, he didn't like the sound of my shoes gliding on the ice….but he got used to it.
Here are some similar arcade posts
If you enjoyed this post, please consider to leave a comment or subscribe to the feed and get future articles delivered to your feed reader.