I got an email about a week ago (January 8th) from Chris. I knew that he had been working on the other Pengo CPO and it was a nice surprise to see that he had finished the final vector details.
Chris had a scan of the Pengo numerals control panel overlay, and he had completely vectorized the artwork in Paint Shop Pro awhile back. I had tried to convert that artwork, to bring it into Illustrator (A couple small things needed to be done, like the lettering and dot gradient and I don't know PSP), but after a ton of hours searching I had no luck.
Well, in the meantime, Chris went out and taught himself Illustrator and did a bang up job tracing the Pengo CPO in one of his first vectorizing jobs. but he's a small cookie anyway, he is a MIT grad! Here is a small image of it.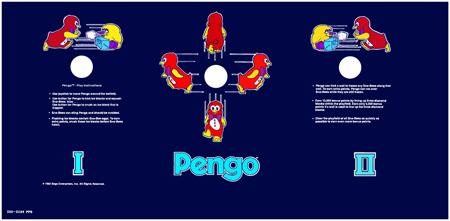 I am going to email him with some of my thoughts and opinions about some of the accuracy of the details. It might come down to a matter of preference between one artist and another, who knows, but we have had some good theological conversations about arcade reproduction artwork and everything will probably work out alright. Each arcade vector artist will trace something a little differently.
Having most of the Pengo artwork is a great start. We have a vector Illustrator file of Sega's Pengo numerals CPO finished, sans color matching. As always, continue to follow Rotheblog for Pengo reproduction updates.
Here are some similar arcade posts
If you enjoyed this post, please consider to leave a comment or subscribe to the feed and get future articles delivered to your feed reader.