All parties directly involved with the Cheyenne sideart reproductions feel like it might be worthwhile to explore having the scanned artwork printed with a solvent inkjet printer because of the complexity of the illustration. Can the artwork be vectorized? Certainly. It is a more question of what the owner wants.
I got the file into the hands of someone whose solvent inkjet artwork is know to be top quality. I hope to have more details soon.
Update 9:00 pm
Brian Jones (Oleszak Creative – Game Stencils.com) cranked through the night, doing a ton of selections and Photoshop work to the original scan and meticulously printed and matched each color. Here we have a test print already, two different angles of the same sideart print adjusting for the photo flash. Great job Brian.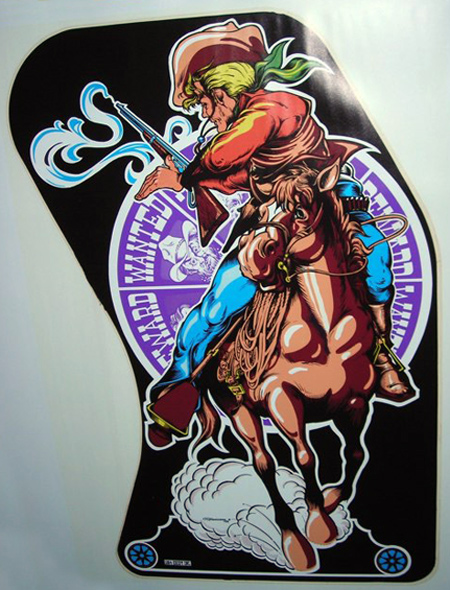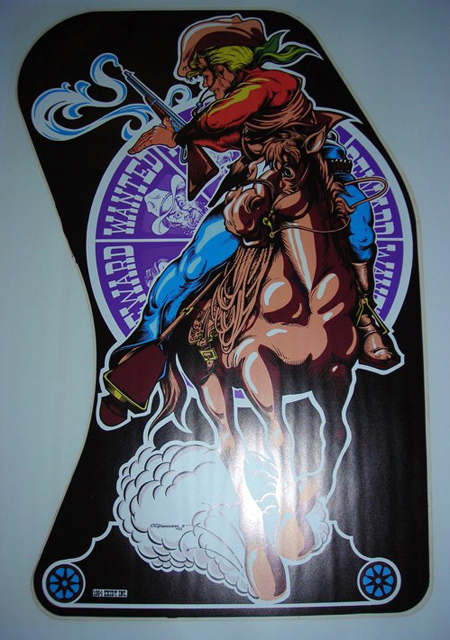 Brian says the blacks were a little off in the test prints, but the second test is adjusted, and the contour edge for die cutting the artwork has been drawn and is ready to go.
Update May 23, 2008
Brian posted on RGVAC with an update on the Cheyenne artwork / sideart file;
I'm getting there on Cheyenne. Wanted to get the Toobin' Gators and Spy Hunter sideart out the door first, then finishing up cheyenne will happen. Very shortly!
Here are some similar arcade posts
If you enjoyed this post, please consider to leave a comment or subscribe to the feed and get future articles delivered to your feed reader.