Earlier this week, I found an individual on Craigslist in Columbus Ohio who was interested in buying my Atari Food Fight cabinet. This is the second cabinet I have sold to someone in the Ohio area. I sold my Atari Xevious cabinet in February to another individual in Dayton Ohio. This is the cabinet that I got from Tim Hill in MI, who got the Food Fight for free from Robotron (klov forums) in the Detroit area.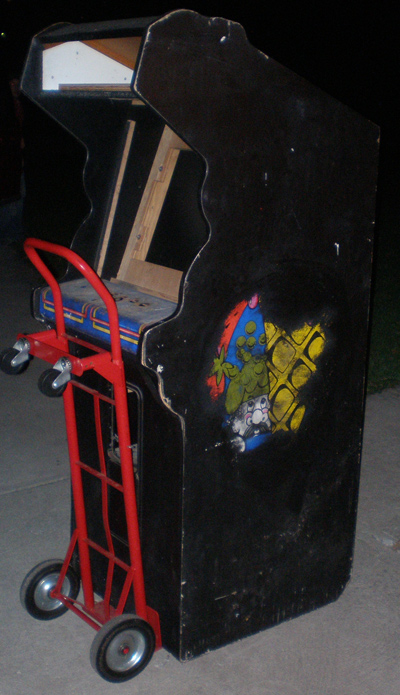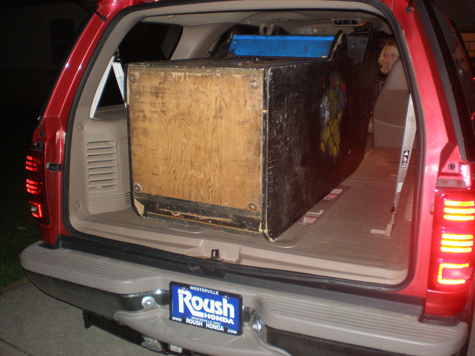 I had big aspirations last summer when I got it from Tim in a trade that at the very least I would strip the paint and reveal the artwork, and I started to do some of the stripping. (Gotta love that vinyl Atari art, is lends itself so well to preservation even against Goof Off.) I thought maybe I would save the sides and trash everything else, I thought maybe I would keep the cabinet around to use to make a brand new replica with reproduction artwork. (Reproduction Food Fight artwork using Scott Evans films or making new vector files is still a possibility.)
But, as time went on, I realized that I wouldn't have time to restore this Food Fight and get my masters at the same time. It would be two years before I could touch it. I would say my luck for selling empty cabinets has been pretty good, but it can be a lot of work and perseverance. So, here's to all of those naysayers that said I should bust the Food Fight cabinet up and burn the pieces, and that it was worth nothing.
Granted, the cabinet wasn't worth much because of the rarity of Food Fight parts (for those who don't know, only 500 were ever made), and the buyer got it cheap, but they will Mame it, or turn it into a Jamma system and I got the money back I put in so it is win win. The cabinet won't be destroyed, but kept around for another round of use with the possibility of being restored. Who knows, maybe the new owner will finish stripping the paint to reveal the awesome artwork and increase the value of the cabinet. Who knows.
Here are some similar arcade posts
If you enjoyed this post, please consider to leave a comment or subscribe to the feed and get future articles delivered to your feed reader.