Brian Jones (Oleszak Creative) has a new pet project. He is fabricating aluminum keychains from raw materials and then laser engraving them with original arcade game artwork! How cool is that?
Brian Jones is a man of many talents and many interests. If you ever get to talk to him a little bit, you realize that he has had a ton of really diverse experiences, and so many crafts hold his interest. Brian has his successful side business at Game Stencils.com, filling a specific niche for restoring painted arcade game machine artwork. Brian also has second side business, check out the photo portfolio of his beautiful custom cabinetry OCI WoodWorking business.
We have all seen the arcade keychains with the flyers sandwhiched in them, and those are cool and all…but make a comparison – aluminum keychains = Evanescence 2003, plastic keychains = Evanescence post Ben Moody. Cool, but not as much. Check out the photos so far;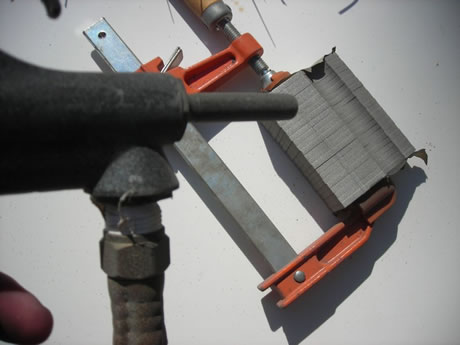 The keychain shapes were cut from 1/8″ billet aluminum with a 3000 watt laser. Here Brian has all of the cut aluminum keychains clamped down for sandblasting to start smoothing some of those razor sharp edges. The sides of the arcade keychains where the artwork will go aren't of interest right now…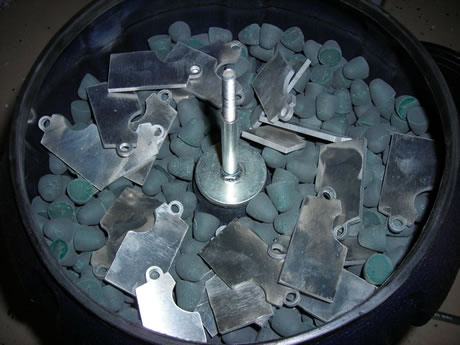 The tumbler will take care of the rough aluminum sides. The little cones in the bin are made of plastic, and just like sandpaper, the courseness of the cones can be increased or decreased depending on the final polish. Tumbling is commonly used for making jewelry and there are a ton of 'media' you can tumble with, I even read that one guy uses dried walnuts with polish.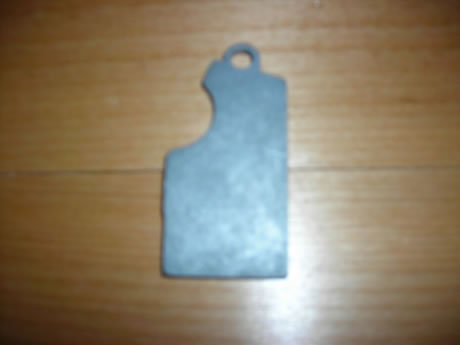 A photo of what the arcade keychain looks like right out of the tumbler. Dull and in needing of a cleaning nothing a little…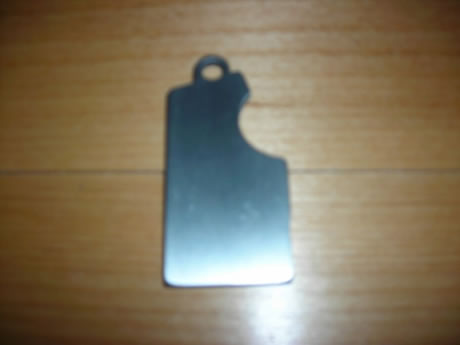 Fine steel wool can't fix. You can see the aluminum edges now are a little rounded, but the sides have a polish, mirror finish. I think Brian used a more course cone to achieve this effect in the tumbler.
What brought on the aluminum arcade keychain idea?
Why not? Have one more personalized item for each of your favorite games. Talking to Brian, it sounds like a new challenge for him, something else interesting. How cool would it be to learn about tumblers, pricing aluminum, and learn about a laser engraving machine using classic arcade game artwork.
Brian has made up about 75 of these keychains, in three different cabinet shapes Taito (Zookeeper), Williams (Joust) and Atari (Dig Dug, Centipede). He's keeping a handful for himself and his own games, but the rest are up for grabs. By using the more popular shapes he can then engrave any arcade game sideart into the keychains for most of the most popular games.
Hopefully we'll see a prototype here soon of one set of artwork. I want to see how detailed the artwork gets, and if it is only surface or elevated engraving. I would also like to know the weight of the keychain (probably light being aluminum) and the dimensions. Would this be a keychain that an arcade collector would actually use, or would it be too big? I would like to have a Sinistar or Moon Patrol one. I don't know yet if it has to be a vector file input to the laser engraving machine, I don't know if vector art exists for Sinistar.
I'll just have to patient for the final product. Brian is a crazy hard worker though, so I don't think I'll have to wait long.
Here are some similar arcade posts
If you enjoyed this post, please consider to leave a comment or subscribe to the feed and get future articles delivered to your feed reader.