This is actually old, old news. Just before Christmas of last year I had finished scanning both versions of the Pengo marquee and posted them on Rotheblog. Around that time I had met and teamed up with another collector interested in seeing this artwork reproduced. I sent him the marquee scan and in about two weeks he sent me a completed vector file in Illustrator!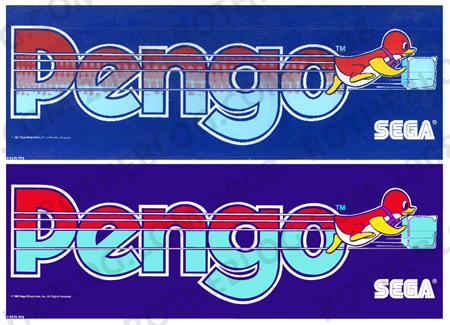 The most amazing thing was that this was essentially one of his first forays into Illustrator. He had worked on the roman numerals control panel overlay, but previously he had been working in Paint Shop Pro. After an extensive trial, I figured out with a number of people that any arcade vector artwork created in Paint Shop Pro was essentially useless and impossible to convert to another format. Once we figured this out, in matter of a month he had converted to using Illustrator and using it proficiently.
These Pengo vectors have been done since January
Looking back tonight, I realized I had never posted this marquee as being vectorized, and I remembered why. I had intentions of going back through and reviewing it by hand. The Pengo artwork is my project, and being a picky artist, I wanted to make sure the Pengo artwork was constructed in a similar fashion to the other pieces.
The vectors for this marquee were pretty darn good, and some of the things I am going to end up changing are my own personal preference. I will be going through the whole marquee by hand at some point, but here are some screens of what I am talking about.
Here is the Pengo character pushing the ice block. I took all of the fills in Illustrator, and did a swap, changing them to strokes, and then selecting all of the strokes and setting them to a .25 stroke or less. This will show me the accuracy of the traced Illustrator artwork.
The only thing I notice consistently that is different is tracing style is that when I come to a corner on a piece of artwork, I go closely to what I see in the scan. For example, here is a screen of the selected shape of the bow tie and he would choose to make a hard angle with one control point;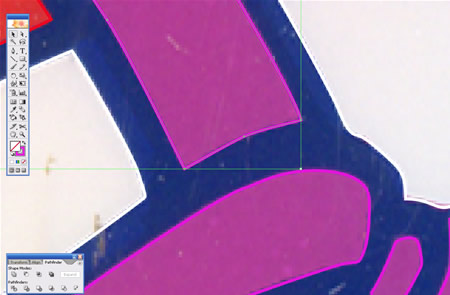 The original intention may have been for a hard corner, but at this close of a detail we still have a tiny radius and I like to keep things that way. I go back in and add one more control point to give it that rounded look.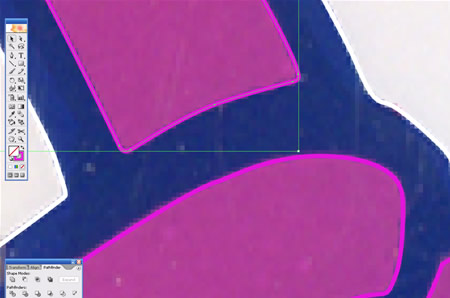 You'll probably never notice this in the Pengo marquee's once they're reproduced, but like I said, it's my project so if I want to take the work to check it over…hey, more power to me err something. There are a few areas where the path doesn't fit the scan;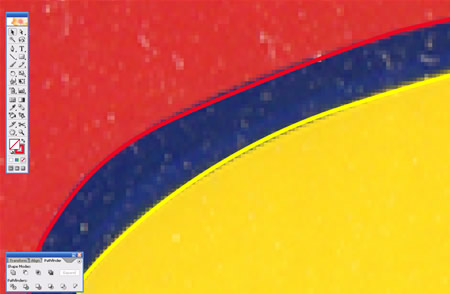 But that is a minor adjustment, and it is a far cry from starting with a automatically generated autotrace piece of artwork where I am correcting paths and removing control points and slowly killing brain cells that I had every intention of killing with beer. And me hates dat.
So, the point of the post is, both of the marquee's are vectorized, and I will use 95% of the artwork as is in this marquee before I add bleeds for the spot screen printing. This was a lot of work, and my thanks goes out once again to Rotheblog's little helper. Sorry it took almost five months…
Here are some similar arcade posts
If you enjoyed this post, please consider to leave a comment or subscribe to the feed and get future articles delivered to your feed reader.