There have been plenty of great tutorials written by other arcade collectors on the topic of re-stenciling artwork on arcade game cabinets. This article series will incorporate those tips and tricks and specifically apply them to stenciling and restoring a Ms. Pac-man arcade game. Wundercade was one of the select few who got a set of the Ms. Pac-man stencils from Joymonkey, and he is going to walk us through his Ms. Pac-man re-painting and stenciling process from start to finish. Hopefully this will be helpful information to the general public since Ms. Pac-man is one of the widest known arcade games around.
First Step – Get some measurements
Before you do anything, let's get some measurements of where the Ms. Pac-man artwork sits on your cabinet. Fortunately, you can mostly get an idea of where most of the artwork sits by measuring distances to the edges of the stripes, top and sides. I didn't take measurements of all sides, just a couple of photos;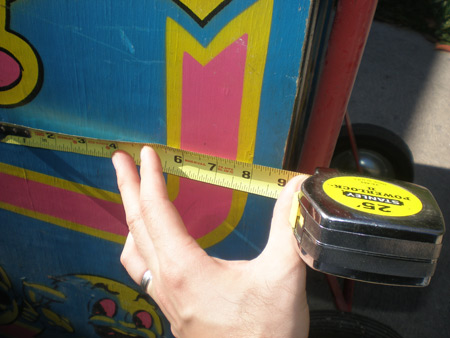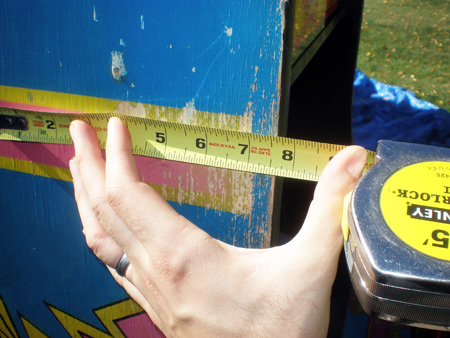 The most important thing you'll need to know the distance from the top of the cabinet to the first stripe, and 2 distances on either side of the artwork on one side of the cabinet. Draw on a scrap piece of paper a diagram, showing the outline of the cabinet and a blog for the artwork so you remember how to position your first stencil. File that away, it'll probably be at least a week or two until you come back to it.
In the end, nothing is perfect, I am sure the placement varies from machine to machine. But you want to have it fairly close so that your Ms. Pac-man doesn't look like the red headed stepchild.
Just a briefing on removing arcade game artwork
This post about prepping a Ms. Pac-man arcade cabinet for stencils will be brief, and won't have too much detail. If you are looking for additional insights into removing artwork, prepping an arcade cabinet for stencils, or just stenciling arcade artwork, you might check out some of the additional stencil links following this article.
Also, I am not going to cover using stripper and other tools to remove paint from your old cabinet. If you are just interested in some ideas on how to strip your Ms. Pac-man cabinet, you can click the photo below to take a look at the extensive photo gallery. There are photos showing a Ms. Pac-man and Pac-man cabinet with the paint being removed.
One tip : I learned this when stripping my own Ms. Pac-man cabinet is that you will want to mask off with newspaper or something else the inner area by the bezel and monitor. If you spill stripper onto the black you will need to repaint that section of the cabinet as well.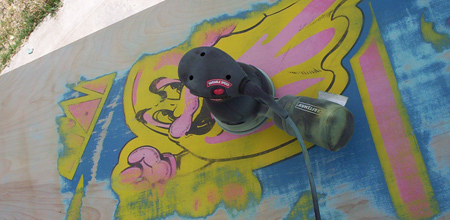 Cabinet Fixing Tools
Let's get started. Shown left to right in this photo, here are some of the basic tools you will need to sand and prep your Ms. Pac-man arcade cabinet for re-stenciling.
Bondo body filler – For patching larger holes and pieces.
Shims, or any small flat straight pieces of wood. If you don't have some small scraps like this, you could cut down 2×4's, pieces of plywood, or anything that you can use as a guide for a corner, however the smaller the better. The larger the wood, the larger the nail you may need to fasten it to the cabinet and a larger nail can splinter your cabinet edge.
Brush – Preferably a general purpose garage type brush, not one you'll be using for painting later.
Hammer
Nails – Small nails, usually tack will work. Will depend on the thickness of your wood.
Tack cloth – Optional

You will use Minwax wood filler for smaller patches, like lock bar holes, nail holes, divets or gouges in the side of the cabinet, but don't use wood filler for bigger holes. Over time the patch will crack and pull away from the cabinet, which I hope to talk about in a later tutorial. Anything the size of a half dollar is too large for the wood filler and so you'll use Bondo instead.

For the sanding portion, you will need a sander and a face mask. For this cabinet project we used a Craftsman 2.8 amp orbital sander and any industrial face mask will work. You will be sanding down paint and other potentially toxic dust, so don't cheap out on the mask, you won't regret it. Take it from experience 😉

Another Tip : I learned when sanding my Ms. Pac-man cabinet for stenciling was to not use a belt sander. You will put grooves into the sides of the cabinet. It is paramount that you use some sort of Orbital sander when working on your cabinet.

Step 1 – Patch the cabinet with Minwax Wood Fillter

Completely go over your Ms. Pac-man arcade cabinet and check to make sure that it is sound. Check for loose wood, holes, and any chips that might need to be removed. After you have found all the troublesome areas use the Minwax wood filler to patch up any small holes. You can see a couple of the small fills on the Ms. Pac-man cabinet in this photo, but you can also see where we are missing a chunk of the plywood upper.

We did the wood filler first because it takes longer to dry typically than bondo. These Bally Midway plywood cabinets have the tendency to splinter at the edges, and that is the case with this Ms. Pac-man arcade. There are a number of chunk missing around the corners and edges that we are going to need to patch with Bondo. Even though there can be a number of rough edges, I personally like Bally / Midway's arcade game cabinets, they were made of a decent quality plywood.

Step 2 – Use Minwax wood hardener on the larger holes

For those chunks of missing plywood we are going to be using Minwax wood hardener which binds the splintered or even sometimes rotten wood fibers together to better accept later application of the bondo. Apply a coat with your brush and let it dry for an hour or so, you may see a shiny finish. Apply 2-3 coats to really solidify the area before applying bondo.

Note: Minwax wood hardener works on a plywood base cabinet, but I am not confident that it will work on a cabinet made of particle board or other similar composite board. You might search BYOAC for some other more appropriate cabinet patching solutions for your Ms. Pac-man.

Step 3 – Use shims to make corners

If you are using shims, you can take some tack nails and hammer them to the edges of the cabinet to make a corner edge to guide your bondo application. Take a look at these photos for some ideas.

You can also hammer these shims next to a splintering edge of your Ms. Pac-man cabinet to aid your application of bondo. Anything to help make an edge and reduce the amount of sanding you will need to do.

Step 4 – Apply the bondo

I have always had a love hate relationship with Bondo, so that is why it helps to prepare you cabinet beforehand. By adding the shims to the sides and edges you can quickly and efficiently apply your bondo to the arcade cabinet before it hardens. You won't need all that much, you can mix up just enough bondo in the provided lid to apply to your own cabinet (depending on the extent of damage).

Here are some after photos. Notice that the edges aren't built up too much unless a whole chunk was missing from the Ms. Pac-man cabinet.

Step 5 – Sand the bondo and wood filler holes

Give yourself 4-24 hours to let your wood filler and bondo completely harden if you feel the need. Don't rush your process, but if you're ready go ahead and start sanding. Make sure to get those trouble areas of the Ms. Pac-man arcade cabinet completely smooth. This is critical, you will need an attention to detail. Make sure to get those edges as even without ridges otherwise they will be that much more pronounced when you go to apply your blue base coat of paint and your stenciled Ms. Pac-man artwork later on.

Also make sure to remove any loose wood dust with a tack cloth. If you leave that dust on your arcade cabinet you may have a gritty finish after applying your primer.


Additional Arcade Stencil Links

That concludes part one. By now you should have a sanded, blank wood Ms. Pac-man cabinet with no holes or rough edges that is ready to accept the primer. Don't forget to double check for blemishes, all holes and un-smooth edges will get more pronounced as you keep moving forward.

Here are some similar arcade posts

If you enjoyed this post, please consider to leave a comment or subscribe to the feed and get future articles delivered to your feed reader.