Jeff Waldron was nice enough to save and give me some artwork he had laying around from a Mappy cocktail. I like Mappy quite a bit, (thank you Jakks TV Games) and enjoy the artwork so it is nice to have the cocktail glass underlay as well as two control panel overlays saved in case anyone ever wants to make reproductions or just needs scans for any reason.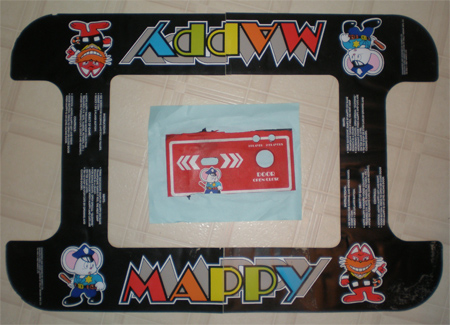 Vectorizing the artwork would be fairly simple, minus the text instructions on the Mappy underlay.
If anyone is interested, if I ever get 10 comments on this post from interested parties I will approach Rich to see if he can get them done. I know Darin Jacobs did the artwork for the upright Mappy, but I am not sure if cocktail Mappy artwork has ever been tackled, certainly not the underlays. Fill me in if you know otherwise, leave me a comment and hopefully a link or two to a forum post.
Here are some similar arcade posts
If you enjoyed this post, please consider to leave a comment or subscribe to the feed and get future articles delivered to your feed reader.