Got a comment last nice on one of my Pengo high score posts from a guy named Dave who runs a website called BrickPlayer. He wanted to show me some of his wall mountable arcade character art made out of flat legos, in this instance a mosaic of Pengo and a Sno-Bee with some Ice Blocks. Pretty simple idea, I checked out the website but I didn't see a section to buy a kit just yet, and that might be good. I am not sure that this artwork for arcade gameroom decoration is a fully realized concept.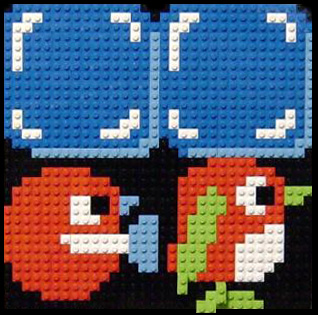 Don't get me wrong, I like the LEGO mosaic idea, Dave also did a Dig Dug square. The rectangular nature of LEGOs lends itself better to the authenticity of the original arcade game sprites. However, in this particular piece the Pengo characters feel a little smashed together, like the back LEGO board is a limitation in dimension. I know we were always taught at the University of Michigan art school to touch three edges of the canvas in our illustrations, but this doesn't feel like a plotted choice but rather a shortcoming.
I would have liked to have seen this 4 panel composition side by side against a similar 9-16 panel mosaic composition. That extra space could allow for some more Sno-Bees, maybe a vibrating wall and give the sense of the ice block maze. Even a larger LEGO panel would more accurately protray the end of a level when there aren't very many ice blocks left.
Other Arcade Gameroom Artists
If Bricklayer decides that he wants to sell his simple, cool, and easily fabricated arcade LEGO hangings, he'll jump into a small niche that already has a couple of players.
For some time Brian Jones has been offering arcade game character wall decor. I like these adhesive vinyl cutouts because they are faithful to the original arcade game sprite characters. You can mix and match, have a wall of Space Invaders characters, and another wall of Asteroids related sprites. Simple but authentic.
About a month ago Melissa Jones (Nice Carvings) popped up on BYOAC selling hand carved arcade game character artwork.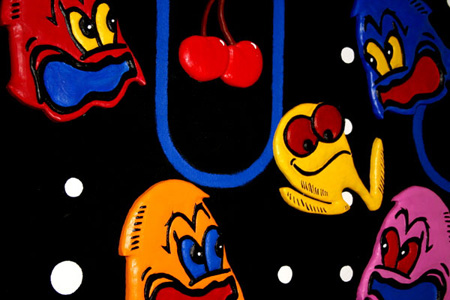 There is something that doesn't quite sit right with me with these wall decors. The artwork is a direct interpretation of a 2D character, but yet because these carvings have elevations and a third dimension, you get highlights, shadows and the overall feel is that it is a 'close interpretation'. Anything copying an original should either be authentic, or completely different like the 'I Am 8-Bit' art show in CA. Looking a little bit at her process, I appreciate the difficulty of trying to translate these iconic characters into wall hangings. But I would almost prefer if the wood was flat, maybe a 1/4″ thickness, and then have very accurate stenciled artwork on the wood cut to the shape of the characters to adorn my walls. She could keep using the backdrops, those are really cool without a certain permanence.
How about a gameroom artwork combo?
What if Melissa and Dave did a little team up? If Dave could produce these kits for Dig Dug and Pengo and cut the backing LEGO boards to the shape of the characters he would have an interesting product to sell to collectors to mount on their gameroom walls. I think this would be viable, sell a set of 6-8 4×4″ characters for $10 or so. I am just not sure that a 10×10″ LEGO square would work as well as the individual characters.
The option would also be there to build the back drops and scenes out of LEGOs, or he could get with Melissa to do some of her cool backdrops out of a sturdy felt? and then the collector could velcro the light pieces in any desirable configuration.
Thoughts? Do you agree with me or not? Would you buy such a simple LEGO product like this, or make it yourself? How much would they have to be to buy a set?
I don't think I would personally buy this, unless it was an intricate piece of artwork in itself, or a free standing LEGO Pengo. Now that would be cool.
Here are some similar arcade posts
If you enjoyed this post, please consider to leave a comment or subscribe to the feed and get future articles delivered to your feed reader.