If you're looking to buy a pinball game in Indianapolis with an arcade theme, then this Mr. & Mrs. Pac-man machine might be the deal for you. Current owner has had it for about 6-7 years, last shopped it two years ago, and has been used exclusively by their family over that time.
Here is a photo gallery of the Mr. & Mrs. Pac-man pinball in the Indianapolis area, click the photo to enter.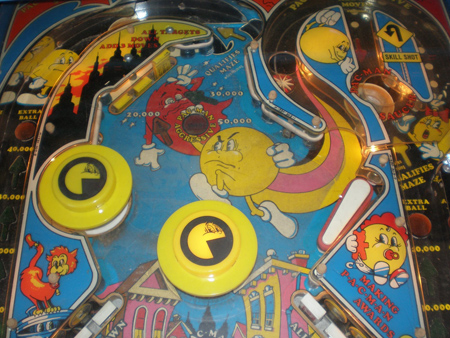 If you have explored the arcade game information on Rotheblog, you've probably seen my photo albums and this pinball machine before. But it wasn't until recently that the owner made a price drop that brought this pinball closer to what I would consider 'market value'. If my memory serves me, this pinball was acquired from the west side of the city from technically adept youth minister who would buy, fix, and place arcade and pinball machines in his church. I don't know how long this Mr. & Mrs. Pac-man pinball was on location there, but it might be reasonable to assume that it hasn't been used by an operator in a public location for about 16-17 years. The owner no longer uses the game and could use the space so that is why he has decided to put it up for sale.
Condition of the machine
There is some normal wear and tear on the cabinet, some beat up wooden corners, some scratches, but the pink in the Pac-man artwork isn't too bad. The playfield will need a good cleaning, there is a fair amount of dust and dirt, but you can see that in the photo gallery. You will notice one of the major flaws is the flaking in the scoring backglass, so that will need to be replaced if you want to truly 'restore' this pinball machine. There is also a problem with the ball return / outhole that will need to be addressed, which should be an easy fix.
Asking $750. Drop me a line with any questions or if you think you need to see any other photos of parts of the pinball machine.
~Update – May 30th, 2008 – This Mr. & Mrs. Pac-man pinball machine has been sold. I don't have a final price as I wasn't involved in the final sale. I will try to find out details to see if it stayed local or not.
~Update – June 14th, 2008 – Funny, small world. Mudmantim picked up the Mr. & Mrs. Pac-man Pinball last month. It makes logical sense, he is compiling the second best collection of Pac-man games to Richard Ford's collection in PA. Richard's collection is practically mint, otherwise I wouldn't give a preference. The pinball ended up selling for less than $700 for all of you who are interested.
Here are some similar arcade posts
If you enjoyed this post, please consider to leave a comment or subscribe to the feed and get future articles delivered to your feed reader.