This morning I finished up the small details on the vector sideart trace for Atari Football. I did a majority of the work yesterday and just finished up some of the smaller details this morning.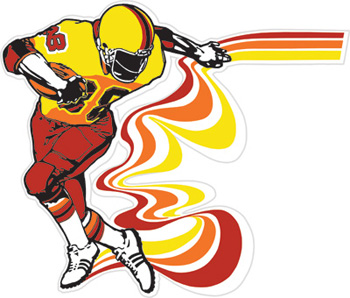 Don't worry about the faint grey border, I just put that on there to show the outline of the Football artwork. Next, on to the color separations, hopefully later today. I love looking at the final vector artwork product, it's always satisfying, especially when the original scan is ugly, ripped, mismatched color, etc. etc. Special thanks again to John and Andre for detail support photos of marred areas of the original artwork.
Here are some similar arcade posts
If you enjoyed this post, please consider to leave a comment or subscribe to the feed and get future articles delivered to your feed reader.