I've been excitedly waiting for two weeks and my new piece of arcade game artwork has arrived! I worked out a deal and was able to secure the Pengo sideart from the QuarterArcade.com warehouse raid. Check out the photos.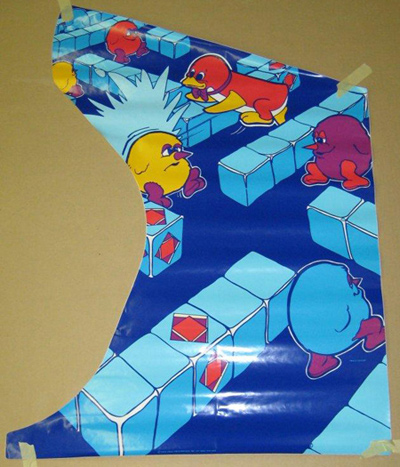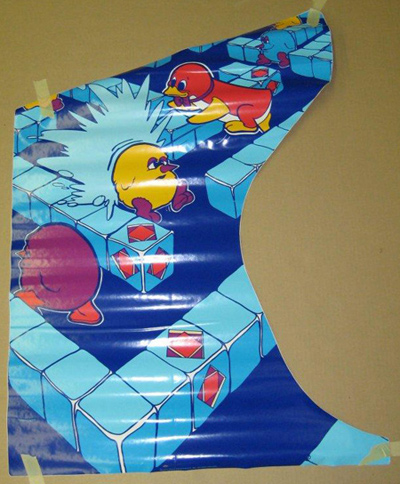 I couldn't believe it, just one week after I got my set of NOS Pengo artwork, out of an operator's space in Chicago this rare, different Pengo artwork shows up from a warehouse buy in PA. Initially when I saw photos of the side art I thought I liked this alternate version better than the original. After seeing it in person, I am not so sure. However, I do like seeing Pengo and the Sno-Bees in context more, showing the games and more accurately potraying the characters. Even though I love the original Pengo cabinet artwork because, it's original, I have always thought it looked a little 'young'.
My Pengo cabinet looks cool with the different sideart
It was cool to tape the NOS Pengo artwork up on my cabinet and see that it fit the shape of the Sega cabinet perfectly.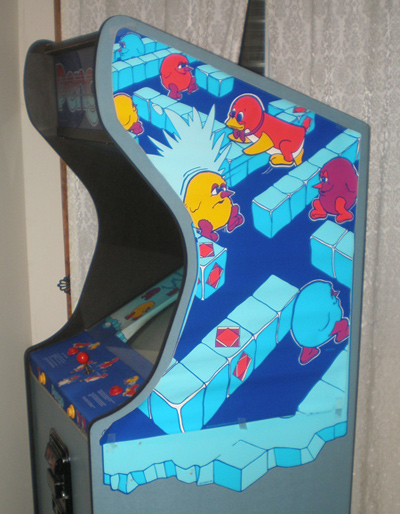 I looked through a ton of Sega games from the same time period on Klov, but couldn't find another one with the same shape. Does anyone know of any?
Shocking to see this artwork. I never thought Pengo had the popularity to have a conversion kit, but maybe it did. I can't tell by looking at the small graphic of the rare Pengo bezel alternate version, but maybe this artwork looks similar.
This cabinet art was made by Sega for sure, maybe some prototype Pengo artwork? Here is a photo of the copyright "© Sega Enterprises, Inc. All Rights Reserved";

And the serial number (PN420-0826SP) on the screen printed vinyl artwork;

Anyone ever seen this different piece of Pengo cabinet artwork? Any ideas, best guesses? Anybody have any information on Sega conversion kits or know what other Sega cabinets have the same slope shape as Pengo?
Update June 7th, 2008
Here is a photo showing the serial number one the Pengo side art, or 'graphic left / right side' as the manual refers to it.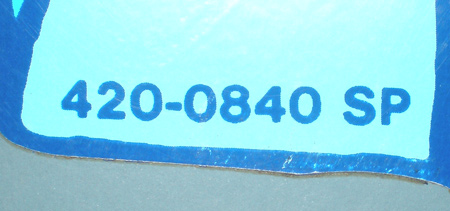 All of my Pengo manuals list the serial numbers for the Pengo cabinet artwork to be Left Side – 420-0825, Right Side – 420-0826, not the numbers for the alternate prototype artwork. As you see, the original artwork also has the 'SP' after the number, so the only other difference besides the last two digits is the 'PN' at the front which I can only assume stands most likely for 'Part Number' or even for 'Pengo'.
Here are some similar arcade posts
If you enjoyed this post, please consider to leave a comment or subscribe to the feed and get future articles delivered to your feed reader.