Archive for July, 2008
In the last piece of the Ms. Pac-man cabinet stenciling tutorial, we learned about some of the tools necessary to properly apply paint, the costs for some of those items and how to effectively apply the paint to the cabinet.
The primer is done, and today we have the photos of the Glidden Blue Rhapsody applied to the Ms. Pacman. She is looking more like the classic all the time, check it out. (more…)
---
It was requested that I do a simple vector job, trace the classic Rock Ola Logo. I didn't find an .ai file on Local Arcade, and although I figure that someone else has probably traced this logo before, it is so simple that vectorizing the Rock Ola logo in Illustrator again was hardly a concern. (more…)
---
You're searching for an arcade game, maybe it's Pac-man, maybe it's Centipede but you typed arcade game Indianapolis and you found this post. This post is about how you can sell your arcade game through this blog, but if you are looking to buy arcade games visit my for sale page where I usually have common games like Ms. Pac-man, Donkey Kong, etc. up for consignment.
Now onto the information. (more…)
---
Got a note from Rich Lint today that he had finished stenciling his Burgertime cabinet and he sent me some photos. For those collectors that have seen a freshly painted arcade cabinet you all know how gorgeous they look. But it's always worthwhile to see another. (more…)
---
I wasn't sure if Rotheblog.com – Arcade game blog would ever reach 20,000 visitors. As I monitored traffic in June I thought that it might be possible by the end of the year, but I didn't figure Rotheblog.com would double it's traffic only two months later. (more…)
---
Spheres of Chaos is my newest gaming addition. Not played Spheres yet? Do you like Asteroids? Well, it has some of the same ideas. I won't guarantee you will like Spheres just because you liked the classic Asteroids, but this game is a ton of fun with layers of difficulty, enemies and power ups when combined with a little luck can make for an intense half hour or more of entertainment for just one game.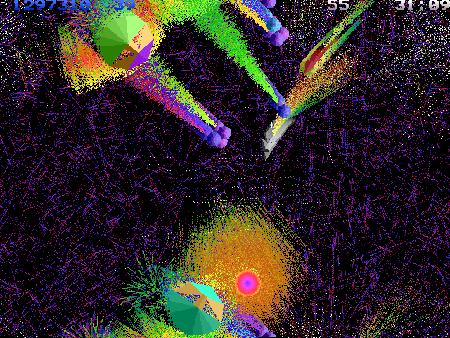 ---
Photos of Stern's newest pinball, The Dark Knight, have hit the net via PinballSales.com. Thanks guys for getting these images of one of the most anticipated pinball games ever. It's their own special retailer machine, you'll see their logo in one of the photos. (more…)
---