If you love classic arcade games, but only have limited space a 'multicade' as they are called may be the perfect item for you. The general term Multicade is used when talking about an arcade game that runs several dozen games through a select menu. As a result, you will probably end up paying more for one of these machines. I can try to point you in the right direction if you are looking to purchase a Multicade somewhere here in Indiana.
Searching out a Multicade in Indiana / Indianapolis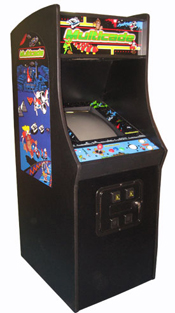 There are a handful of places that you can find an arcade game that plays something like 48, 60, or 100 plus games in one cabinet. There are the obvious options at retail – Family Leisure (Formerly Watsons), Costco and most Billiards shops. You will pay through the nose, and in the case of some of those cabinets like Arcade Legends, they are not the most quality machines – they were meant to be sold in mass quantities 😉
You will find a better deal to either haggle with a local direct to consumer coin-op distributor, like Wagner Gameworks or Acegameroom. Even then, you'll still probably pay close to or over $1,000 per cabinet.
If you are still looking to save more money, there are a couple of other options.
'Multicades' on Craigslist – Craigslist is always a great place to start for buying used Multi-cades. You have more bargaining power, especially when the market is flooded with units without the demand. You may have to pick up a unit that has a few issues which will involve a little bit of electrical skills (basic wiring, voltage testing). No big deal. The better deals are obviously had on the non working machine because the average individual doesn't want to spend the time fixing it, and doesn't want to pay a professional to do it. The above link will return results in Indianapolis. Revise accordingly based on the city / state where you reside.
'Multicades' at auction – As long as USAmusements still runs it's auctions for amusement equipment (pinballs, arcades, redemption, etc.) you will be able to find Multicades for a little less than retail prices. Usually the savvy consumer will figure this out, so you will find that these machines will bring $6-900 at auction, but this is still less than a grand. Check out the link above which will take you to the 'auctions' section on this arcade game blog, showing auction photos and some final prices, giving you an idea of what to expect.
Obviously you can monitor eBay for Multicades as well in your area, but the prices here will also be retail like prices.
How much should you pay for a Multicade?
I personally would recommend going to the auctions. That is the best deal, and usually those machines are fully working, because they don't bring any money if broken. In reality, buying a multi game board is just over a hundred bucks, so making your own multicade cabinet should really only cost several hundred dollars tops if you made it yourself.
So the question really is how much of a premium you want to pay to have one finished, working, looking nice with Ms. Pac-man, Galaga, Frogger, etc. artwork, vs. saving that money and making one yourself.
More questions? Leave a comment and I'll revise this post to answer those questions.
Here are some similar arcade posts
If you enjoyed this post, please consider to leave a comment or subscribe to the feed and get future articles delivered to your feed reader.