Back in late May there was a couple page thread on Klov asking why Rich at This Old Game was remaking artwork for Gottlieb's Q*Bert. Seeing as almost 7 years had passed since the first Q*Bert decals / artwork was reproduced there are a lot of people who vaguely knew there were different versions, but didn't know who was selling the most accurate reproduction.
We put that thread to rest, but in case you are still curious here is an expounded history and a visual comparison of the Q*bert sideart that has been reproduced.
Arcade Renovations Q*Bert reproduction artwork
Back in September of 2000 Phillippe Bourdon announced that he would be selling sets of Q*Bert sideart decals for $95 a set. At the time, Q*Bert hadn't been done and was such a classic game that the demand was tremendous.
When you look through the forums, I can't find a mention from Arcade Renovations or other collectors that there was any negative feedback on the Q-Bert sideart. But from what I can find, it was this first run of artwork that had the wrong shadow behind Q*Bert, but every other piece of the artwork was accurate. Here is a photo of that mistake, the solid shadow Qbert artwork.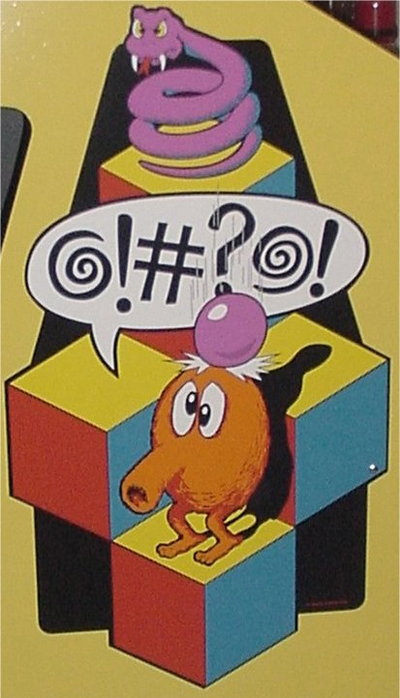 Other inaccurate Arcade Renovations Q*Bert artwork?
That is what a small handful of collectors may have started to think about Arcade Renovations Q*Bert artwork. AR had reproduced all of the necessary artwork, including the control panel overlays and bezels. Here is a comparison composite image one collector put together of one of his the Q*Bert plexiglass bezels he bought from Arcade Renovations. You can see some major differences.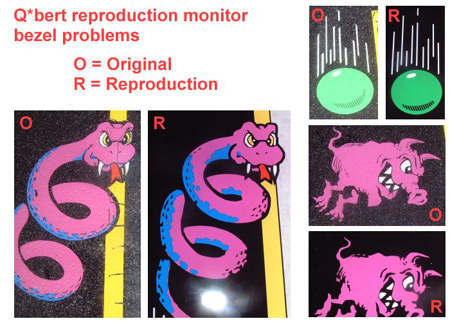 But as Phillippe pointed out in a rebuttal post, and many of us know by now, for many different reasons during the printing and development of some of these classic games, the company would reprint and make different official revisions of the artwork, and in the case of the plexiglass bezel above, the reproductions were probably based off a different Gottlieb rev. number.
So sometimes arcade artwork reproductions are flat out inaccurate, and sometimes they are accurate but different depending on the revision of that piece of artwork. Back to the Q*Bert shadow mistake.
The shadow behind Q*Bert should be blobular. That's not a word, I made it up. But the shadow pattern isn't a halftone, it isn't pointillism and it isn't really dots either. After the mistake was realized, the artwork films must have been remade, and the artwork reprinted. There were a couple of collectors, namely Brien King at Arcade Restoration.com who bought a set. He doesn't have dates on his posts, but it appears as if he bought that QBert artwork somewhere in the 2002-2004 range. This is the photo he had on his website. You can see the broken blob like shadow pattern on the sideart.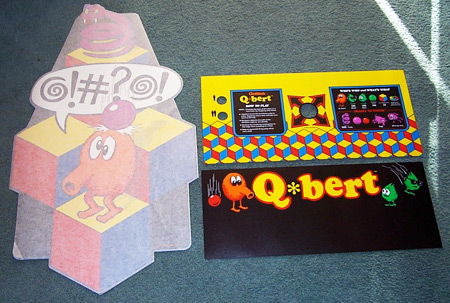 Selling off the incorrect Q*Bert decals
In 2003 Phillippe blew out the last remaining sets of the incorrect shadow Q*Bert sideart for $12 a set. The original post says there were only 10 sets, but as I have heard about Phillippe, there was always more that he kept finding in different places. Combined with the original purchased Q*bert error artwork, there are probably more than 10 sets floating about still.
These sets filtered out into the community including eBay and even some to Todd and TNT. These people then resold those sets of Q*Bert art to the general public. They may or may not have disclosed the differences and inaccuracies of the shadow on those decals, but for the general public it may or may not matter. Some people would like to have a reproduction instead of no reproduction, and for a solid black shadow on a game that may be wedged with a bunch of others, most people wouldn't care.
Is the Q*Bert sideart for sale today accurate?
But enough time had passed between then and now, with a new breed of collectors, some of us don't remember the error Q*Bert artwork and we are asking this question. A number of collectors were unsure if Arcadeshop was selling the solid shadow version and were reserving their purchases until they found out.
Rich at This Old Game went ahead and bought a set and sent me some comparison photos so we can put this all to rest. Here are some shots showing the Arcadeshop Q*Bert artwork held up against an original Gottlieb Q*Bert cabinet. Click the photo for a larger detail version.
The most important points to note about this Q*Bert art comparison. If you are looking to buy Q*Bert artwork through the non endorsed channels like eBay, and you are particular, keep an eye out for that shadow. But if you buy the sideart from anyone else, the shadows are correct and the overall artwork is as original as you could find on an original Gottlieb Q*Bert. Here are some more photos of the Arcadeshop Q*Bert sideart.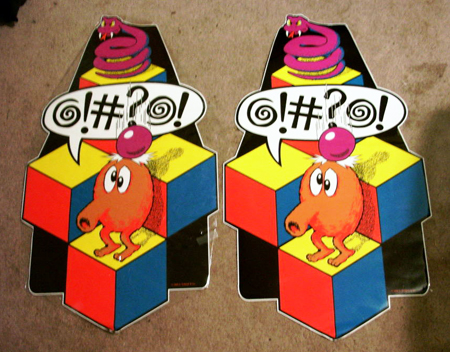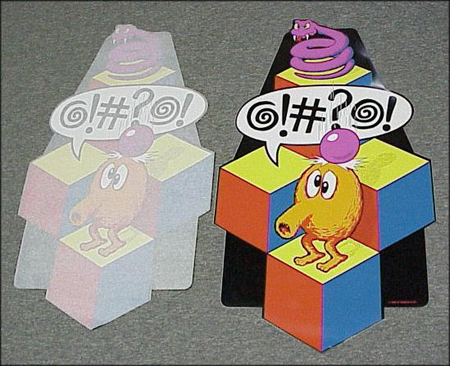 Feedback? Corrections?
Of course, I always welcome feedback and insight into what I write. I wasn't collecting when the Q*Bert sideart was originally reproduced, so maybe another collector can offer some insight into how things really happened. Leave a comment.
Additional Links – General to Q*Bert
Here are some similar arcade posts
If you enjoyed this post, please consider to leave a comment or subscribe to the feed and get future articles delivered to your feed reader.