As I have gotten to know Rich over the past 6-9 months I have gotten to know a lot about his business and how the production moves from the initial interest of a reproduction artwork project down to the final physical pieces. Sending out films for production that are considered oversize can add a little bit of time to a project. Well, Rich recently got a doozie of a deal that is going to make his capabilities to print full size arcade sideart much easier.
Films, Vinyls and more
It's good when printing is in the family blood. Rich and his brothers are printers on the west coast and when word got out that a sign shop was closing Rich was able to pick up a van load of film, vinyls, paper and more expensive printing materials for a song. Not to mention they got delivered to Portland, so the only additional cost really is storing the stuff. Check out the photos.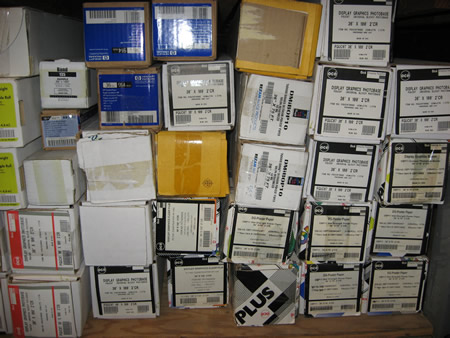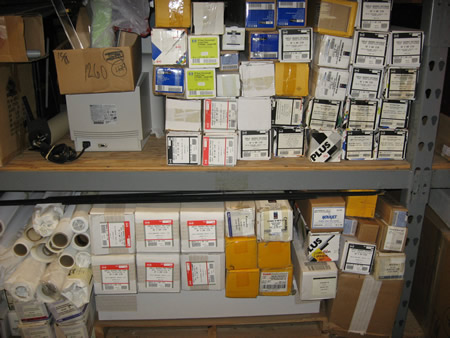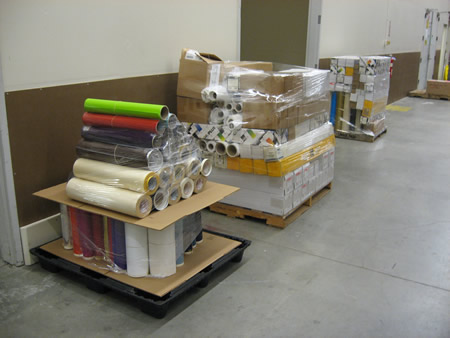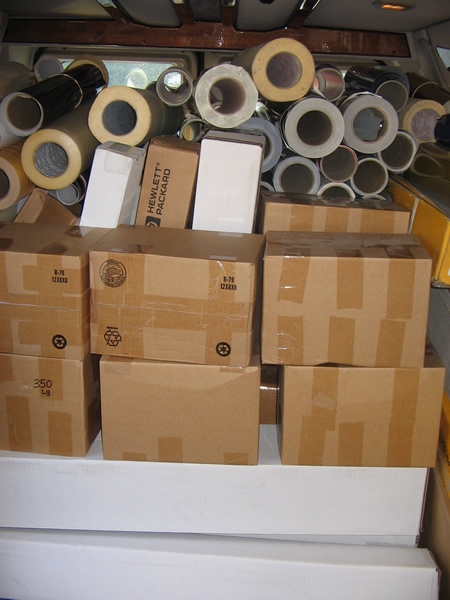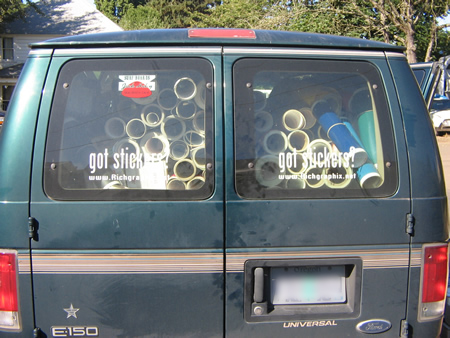 What does this mean for me?
As a collector, I would be excited. Before, films were sent out to be produced and that cost came at a premium. However, it sounds like really soon Rich will be picking up an HP 1050C which can print onto rolls of 36″ wide material.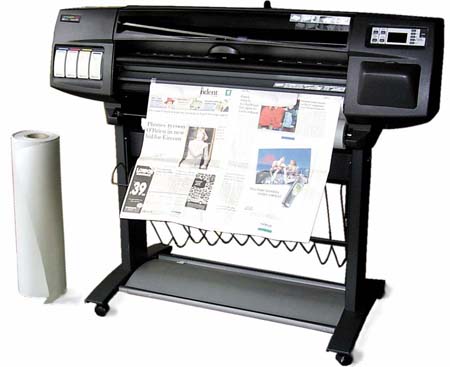 Take a few inches off of either side, it doesn't matter, even a 34″ printable area covers the width needed to print full size films for a large range of arcade game sideart. It also makes life easier and hopefully quicker to print films for control panels which usually come in around the 24″ threshold.
I can't speak to how much having this equipment in house will, if at all, reduce in the cost for an arcade collector to contract with Rich to have artwork reproduced. But it sure will make Rich's life easier and could potentially mean faster turn-arounds. I know that to send off to have one film for one color on a piece of full cabinet sideart could cost as much as half of a roll of this blank film brand new. I think in this lot of materials there were 2, maybe three,10 – 100ft rolls of this film! So, that should last for a good long time.
The other upside is that other print shops, or guys interested in doing offset printing could send films to Rich to be printed and reap the advantage of a careful eye and keen experience in the details of printing arcade related artwork. Again, this is not something that Rich will be doing for sure, but this would be an option for him if he decided the cost vs. time analysis was beneficial.
Starting to dream again about Mr. Do!
This is exciting for me. I am still trying to hunt down a good reference to finish my artwork for a Mr. Do! with the character sideart (Mylstar's Mr. Do! in California is about the best I've seen). I would like to have the artwork printed on vinyl for a conversion cabinet, but the fact that probably no one else would be interested in a set has kept my project at bay. With Rich, all of his printers are in house, which now includes the step of the films. I would have a more cost effective option to do a one off screen printed set of sideart and kickplate artwork for a Mr. Do! rather than trying to send it off to someone else who has minimums for production.
Too bad this deal couldn't have come up before the Agent X reproduction artwork started. Production on the Agent X color screens and the films for the kickplate artwork would have been easier. But, the community now has a few more cost effective options for getting their favorite piece of arcade artwork reproduced.
Here are some similar arcade posts
If you enjoyed this post, please consider to leave a comment or subscribe to the feed and get future articles delivered to your feed reader.