Chris Moore and I had been talking, and now that he is sharing some great arcade information with some regularity on his Tokens Only arcade blog he was finding that there needed to be some changes from how he thought his website would be structured. Since his navigation is image based, that meant some changes to the buttons and I thought this a perfect time to do an update on the joystick that the original designer made some 2-3 years ago.
Red Sun or Joystick Ball?
I think it is ingrained in designers to naturally not like another designer's work if they don't know them. If I know you, hey, you design the best work in the galaxy. But you could be hired by Universal Studios and if I don't know you then something about your work is junk 😉
Not really. But that brings me to my example here. I was never in on the original design talks but I always felt like the original navigation elements on Tokens Only looked a little amateurish. Granted, you knew they were joysticks that flipped when you rolled over the links, but the joystick was represented by a red circle with a white glow, smack dab in the center, and the stick was just a white line. Plus, how does a white to blue gradient rounded rectangle relate back to arcades or a joystick in general?
So I update the joystick icons on the Token's Only WordPress theme to make them look a little more realistic. Granted, the shaft is a little more chunky than a joystick might be but just like any round object, the ball now gets a more color realistic reflection from the top, and a reflection from the bottom of the material below it. Check it out;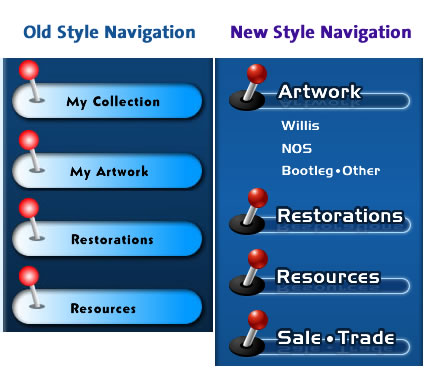 These small details in design have always been important to me. If you are going to represent something in real life, understand how that object interacts with light and other parts of its environment. The rest of the design with the glowing oblong rectangles, the outlined text and the reflections of that text are all really design preferences, they don't necessarily have anything to do with arcades. However, I do think that any thin lines that glow remind me of vector games a little bit.
Love those rotating arcade flyers
My favorite part of Chris's site is the rotating cropped image from an arcade flyer of his choosing. Most of the flyer images are from games Chris had, has, or are just his favorite from Berzerk and Asteroids to Ghosts N' Goblins and Missile Command. However, to get that rounded effect, we need to include part of the blue in the upper left corner.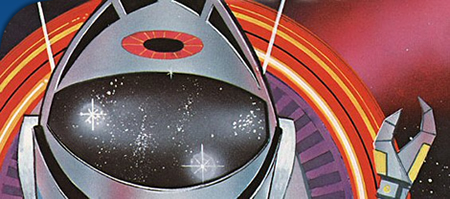 So that meant some 20 odd images had to be updated. Why? Well, I also didn't like how dark the original designer made the gradient for the blues, they were almost black so I change the fade to give the left side what I would consider a richer color.
There are a couple more things I would do to this website if it were mine completely, mostly smaller things. But we'll just have to see how things progress. The original ideas of the design have changed significantly, as websites do, over the last 3 years. Hopefully as his site grows with some of the best content I've seen so far on more common classic arcades, some of those other details can flesh out as well.
Here are some similar arcade posts
If you enjoyed this post, please consider to leave a comment or subscribe to the feed and get future articles delivered to your feed reader.