Exciting, today is the day, the be all to end all. Either I screw things up completely on my Ms. Pac-man, or the final black artwork will really make my cabinet sing. So far so good, I've sprayed the kickplate stencil and removed it and here is what things are looking like to date. Keep checking back as I'll be working on the sides and finishing touches until 4:00 pm today.
Black spray paint and stencils = easy to work with
The black spray paint is easy to work with and is going to hide some of the rough edges left from the yellow artwork debacle. Black is forgiving, and I am happy with how things are going so far beyond one small screwup that I may or may not disclose. Here are some photos.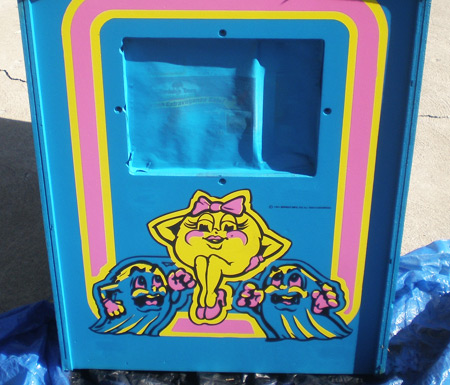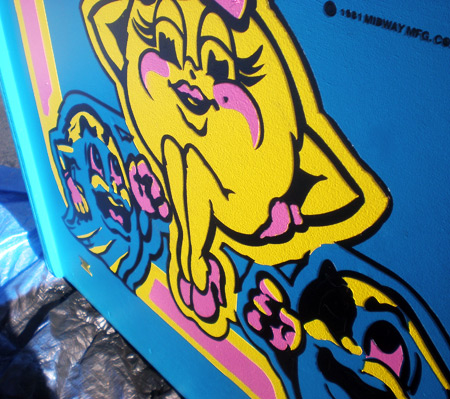 I am having to pick out the floating pieces in the black with an exacto knife. I hope that is the right tool to use, I am afraid picking them out with my nail with tear up some Ms. Pac-man artwork as well. Thoughts?
Update – 4:15
I got to be a weeding expert, I was zooming trying to pick out all of the little pieces in the ghosts at the bottom of my Ms. Pac-man cabinet. Just like the front, the copyright notice came out really nice, I was worried about that section.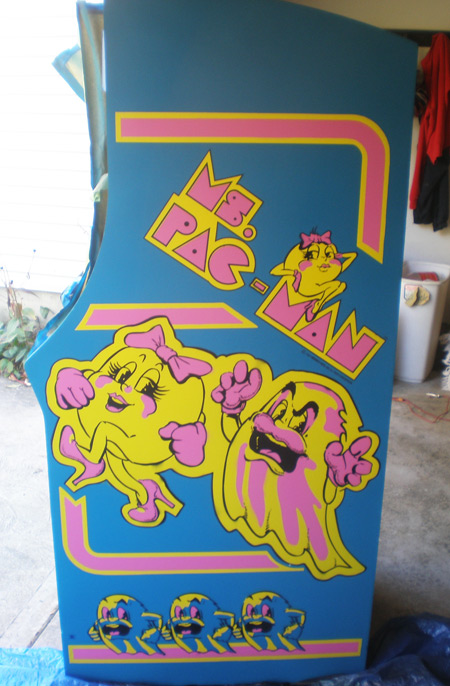 When I show some detail shots, and even in this photo of my Ms. Pac left sideart, you can see the fact that my yellow was textured killed me, I got a lot of little overspray areas for the black, and it is that much more noticeable because it is black. Oh well, I have to love this Ms. Pac-man for its stencil flaws I guess.
Update – November 2nd, 2008
Yesterday I got through the final black sideart stencil. I did a couple of other things as well, including a touch up coat (to finish off my second can of painters black) on the inside of the cabinet. Genius here spilled a little bit of stripper on one side in the initial process, taking out some of the black paint.
I also took a brush and touched up a couple of spots in blue, one right under the ghost on the side, one on the top edge of the cabinet, and a couple of spots of black overspray onto the blue on the kickplate. You'd have to look hard to see them, and I didn't see any dried brushstrokes.
I also put down three coats of clear on the top and black, and five coats on the front kickplate artwork. I heard other arcade collectors saying they couldn't tell a difference at three, and the can said to apply at least three coats of clear, so I went with five for the moment.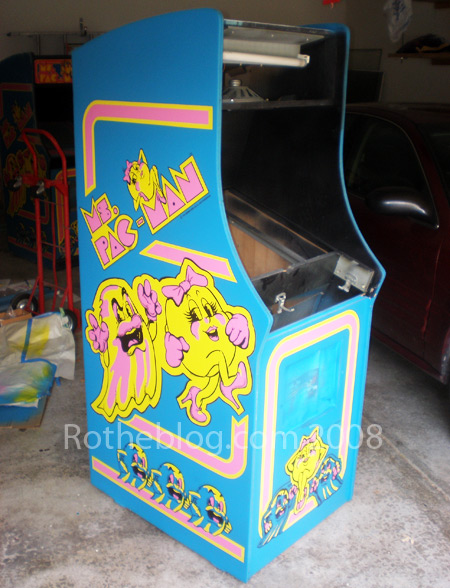 What's left? Adding the clear coat to the sides and re-assembling my Ms. Pac-man. Now, I am still unsure what to do about the sides. The black overspray drives me bonkers, but remember my yellow touchup half pint is a Valspar base from Lowes. I couldn't get anything that small with a satin Glidden base from Home Depot.
So, I would be nervous about some small brushing about the paint not matching, and I am not sure how to 'hack' together some stencils for touchup. Do I use clear acetone sheets? Do I buy plain vinyl? Not sure…will be thinking about it today since it is still warm outside.
Here are some similar arcade posts
If you enjoyed this post, please consider to leave a comment or subscribe to the feed and get future articles delivered to your feed reader.