That is the question right now. As I started to lay down my pink stencil on my Ms. Pac-man kickplate I noticed something. It appeared as if the left hand of the left ghost on the kickplate was missing the yellow highlights on his knuckles. I thought for a second that maybe the shop that cut these stencils had missed some pieces and I had better check Joymonkey's Ms. Pac-man stencil file. Sure enough, the yellow pieces were missing from the artwork file as well.
Ms. Pac-man Stencil Artwork file still accurate
The artwork itself is still accurate, my question is whether a couple of pieces got turned off on a layer or something when the final PDF file was released to localarcade.com.
I even though, well, maybe there are some slight differences between each Ms. Pac-man, which there could be, at least in terms of artwork registration. But I looked my extra Ms. Pac-man, and photos of this pre-paint stripped cabinet and both has the yellow highlights on the ghost's hand.
Here is a photo of my extra Ms. Pac-man kickplate;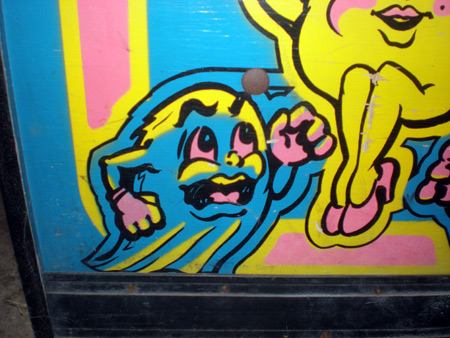 Here is a photo showing my pink stencil applied to my new Ms. Pac-man;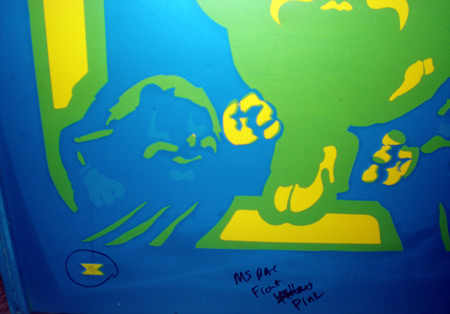 Here is a shot from the yellow separation from the artwork file.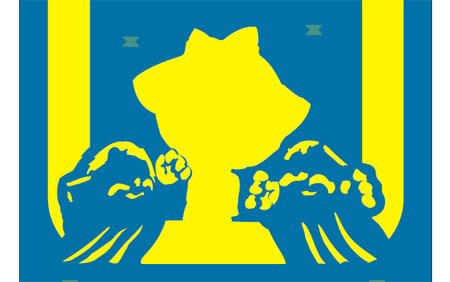 I emailed Paul Murphy tonight to see what input he has.
I guess my main problem now is obvious, what do I do? The main problem is that I am missing some yellow artwork on my kickplate. The other problem is that I am out of yellow, I used up the full quart when I painted. I had a tiny trickle in the very bottom of the can but I didn't figure I'd use it and I had a busy day on Monday so I left it open in the garage until tonight. What was there dried up.
So, I have no yellow paint, and don't really want to buy a whole second quart of yellow just to fake touch up this spot…
I don't know. I'm going to wait a little while longer, but consistent 50 degree weather is almost here.
Suggestions?
I am looking for suggestions on what to do that I haven't already thought of if anyone can offer something.
Update – October 29, 2008
Today I finally had a break from MBA coursework that I got out to Lowe's and picked up a half pint sample can of the Sunny Side Up to patch up the missing artwork on my ghosty.
I made a makeshift mini stencil from some extra material on the kickplate black artwork, painted it and here is how it looks now.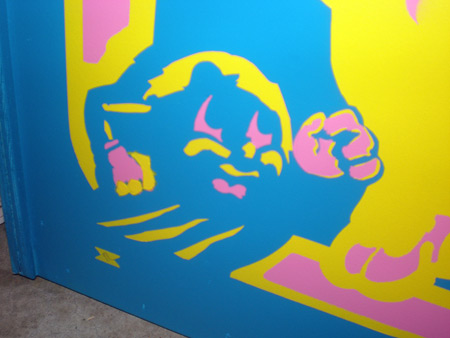 The lines are definitely ugly, and I think I over compensated and got the paint too thin, but with a little bit of the hair dryer and a space heater it is dry and hopefully will be completely hidden with the black layer. I am way past time to get this finished, and I couldn't wait on Paul to get me a mini stencil any longer.
Here are some similar arcade posts
If you enjoyed this post, please consider to leave a comment or subscribe to the feed and get future articles delivered to your feed reader.