I had completely forgotten about the Journey sideart project, at least in a sense. I know with some guys up in the Chicago area and north interested in Journey, Jeff P. has created a user interest group to interact over at CoinOpSpace.com. I bet they'll be thrilled to hear that the Journey sideart reproductions – digital print – are moving along and with amazing artistry. The whole piece is being reconstructed at the pixel level on top of the original scan. Check out the photo inside.
Digital inkjet reproduction artwork can look amazing
When it's done by someone with skills. Mame Marquees seem to do a pretty good job from what I've heard, and I know Brian Jones does as well. Rich doesn't ever rush things, so you know his product will be that much more amazing.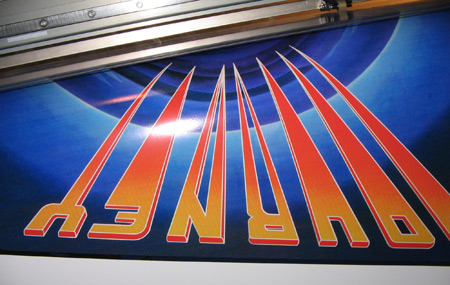 Now the details
Rich handed this piece of artwork off to a true 'artist', someone who would love to get down to a pixel level of recreation on those soft gradient colors. The result – a 3 Gig 600dpi Photoshop file with 2,400 layers. (Now, I will comment publicly that the amount of layers sounds a little ridiculous to me. I know how that many layers can significantly slow down a system. It is better to save out stages in production, maybe 10-20 different files, and flatten layers of artwork as they are absolutely finalized to reduce problems in screen re-rendering in Photoshop. But I digress, to each their own, every artist has their own work flow.)
The print you see above is direct from the cleaned scan with no color or contrast adjusting. The final Journey sideart prints will be done on a solvent inkjet and will be screen printed with a semigloss clear to match the original sheen. Here is another image which shows that the cut line will be correct.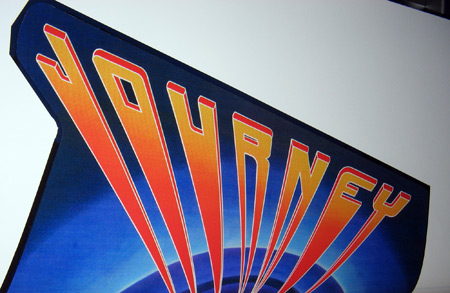 Final Notes
I know that the Journey sideart has some similarities in style to that of Cosmic Chasm and this similar process would lend itself well to that artwork. Maybe in the future. I know Brian Jones has pieced together that artwork already from scans from a control panel out of the UK. Maybe Rich can finish that project up while Brian is working on some finishing up some other artwork. (Zookeeper stencils)
Thanks again to Rich for the update. Remember, if you don't have a printer yet for your arcade reproductions, you will want to look up Rich at Thisoldgame.com

You got it here first, exclusive content about the Journey digital sideart reproduction artwork progress at Rotheblog.com.
Here are some similar arcade posts
If you enjoyed this post, please consider to leave a comment or subscribe to the feed and get future articles delivered to your feed reader.