Wouldn't you know. I made arrangements to get out and pick up this Frogger today on the first snow of the winter here in Indianapolis. The friend who owns the truck went with me, so that took the slight worry away since I was using someone else's vehicle. The Frogger was the only thing sitting in a garage just south of Broadripple. Sad and dusty inside, this Frogger has been sitting in a house for 15 years.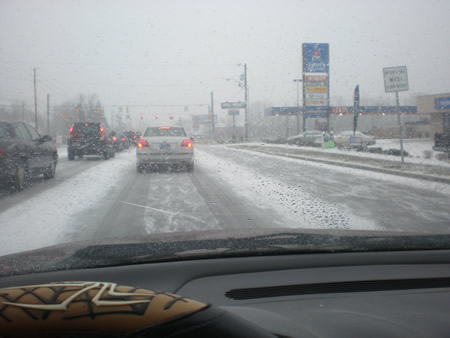 I don't plan on keeping the Frogger
Indiana drivers are atrocious. We saw three – three car accidents in the short 10 mile drive to pick up this game here in Indianapolis. Being from Michigan, it amazes me how people drive under the speed limit by 15 miles an hour and still manage to t-bone someone.
But back to Frogger. Don't get me wrong, Sega's Frogger is a fun game, but this cabinet kind of sucked in the artwork department. This cabinet is missing the 'sideart', if you can call it that at all. Just an oversized decal / sticker showing Frogger running. Pretty dumb if you ask me.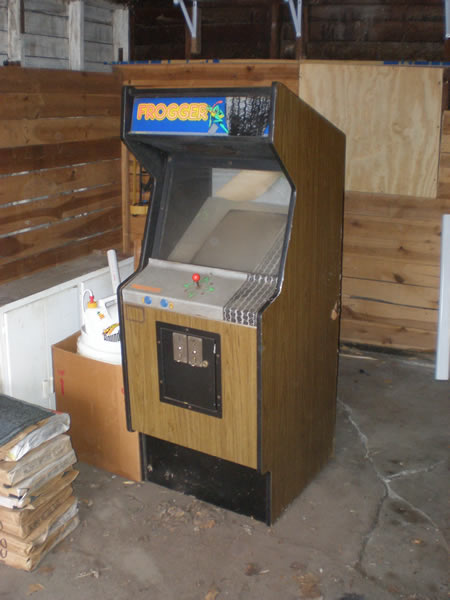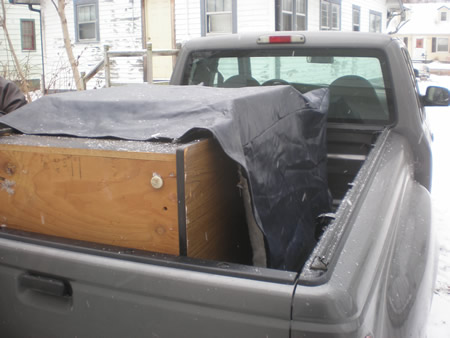 Like I said, this game was picked up for free 15 years ago, and worked for 6 months they said before it had some issue. I haven't tried to power it up yet, but it's all there, and the cabinet is in decent shape, the edges aren't too rough considering the age of the game. (The discoloration you see on the right is tape, not cab damage) Prior to that owner, he said some other owner had it in their home for over 5 years, so for 20 years of it's life it's been home owned.
You couldn't tell by the dust on the boardset 😉 If you are interested in buying this Frogger from me, whole and locally let me know. I probably won't get around to listing it anywhere, or on this website, for at least a week.
Picking up games in the Indianapolis area
If you have an old upright classic arcade game that you just want gone, you want someone to haul away, give me a hollar and I will take it off your hands. Pac-man, Donkey Kong, Q*Bert, or even something less common like Shinobi, if you don't want it I will come and get it from you no charge.
Here are some similar arcade posts
If you enjoyed this post, please consider to leave a comment or subscribe to the feed and get future articles delivered to your feed reader.