I am just now starting to get back to some of your messages from thanksgiving, and I thought it might be prudent to talk a little bit about what has happened at CoinOpSpace.com over the last week. New groups, new members and a couple of new pieces to the design are some of the highlights.
Groups at CoinOpSpace.com are exploding
Last week we saw quite a few groups created at CoinOpSpace.com putting the total over 45 now.
What are groups all about?
The main purpose of an arcade game specific group is to have a central repository to share all information related to the game, photos, schematics, manuals, tips, etc. This will help narrow your search down from the general forum as well as give you a list of like minded individuals who have knowledge about that particular game. But so far, groups have been built so collectors can compete for the highest score, which is a fun usage as well.
Some of the arcade game user groups that were created last week;
Zeke's Peak
Sinistar
Space Tactics
Gun Fight
Firefox
I created the Sinistar group this weekend, and am looking for some high score competition. This group right now is about high scores, and if you are interested please join up. The posting is informal, based on a trust system right now. If you want to submit a photo of your high score, great.
Space Tactics and Gun Fight are user groups that will be useful to fans of these games because there are a ton of photos posted showing details of the cabinets, the pcbs and the wiring. I don't know where these two user groups will head just yet, but we have passionate members who will be sure to drive some content there.
Zeke's Peak and Firefox were the final two created groups, and they are looking for members, so if you are looking to share high scores, or just build a game specific resource with links and articles this is the place to do it.
Group of the week – Red Baron!
I would say that the group that has expanded the most with the best information has been the Red Baron group. Moderated by Francis M. (Nash formerly of Klov), the Red Baron group has a handful of passionate members with photos and other detailed information about the game, and the prototype Red Baron. Francis has done an excellent job using custom HTML and graphics to make a sort of design for the page.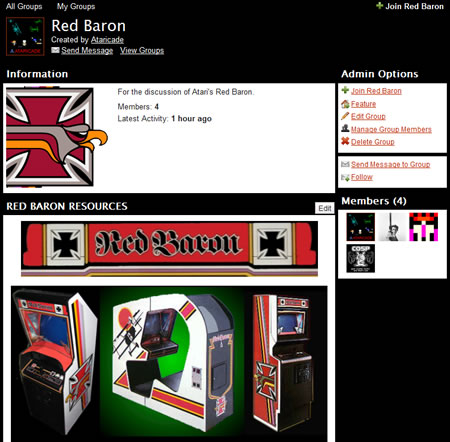 Just in case you missed it, here is some more information on Francis' Prototype Red Baron from a few days back.
Membership continues to grow
We have seen an additional 10 plus members join over the last week, which is a decent number considering the holiday, putting our total at a nice rounded 90 members.
Numbers aren't really that important to me, but I do like to see membership grow. I am looking for members who will participate while we are still growing, and there aren't 2 replies to each topic per minute. Brick by brick, these sort of things take time, but 90 plus members joined in three weeks is a pretty impressive number.
Graphical improvements / changes
Today I made some changes to the graphics on the website.
Made a custom sized CoinOpSpace banner for the login page
Made a site specific favicon
Made a new default avatar
These are a couple of things to help round out the branding a little bit and shore that up. The next most important graphical item will be the media page, where I will made logos, avatars, ids, etc. for you to use on other forums to display a little love for CoinOpSpace.com.
I'm caught up on my welcome messages, and I'm glad you've all signed up. As always, I hope you're enjoying the arcade game forum, it's a growing entity that changes a little bit each day. Keep posting great topics and information, I'll see you online.
Here are some similar arcade posts
If you enjoyed this post, please consider to leave a comment or subscribe to the feed and get future articles delivered to your feed reader.