Pac-mania isn't a widely popular game, it draws a lot of it's following because it is one of the last in the series of Pac-man games. There was a Pac-mania that popped up here locally in Indiana that didn't fetch much over a $100. But, that doesn't mean there isn't any demand out there for sideart, and if you have been looking for a good reproduction, This Old Game is almost ready to make some high quality inkjet prints available to those who need them.
One man – Three Pacmanias
Rick F. has three Pacmanias. You read that right. There isn't a ton of demand for these games, but Rick has three. Probably because they're all in really good condition and when the right individual comes along looking for one, they will pay top dollar for a nice one.
Rick contacted Rich to see if he could do some inkjet prints to help him restore his cabinets. Now, if you've seen this artwork in person you'd know that screen printing is out of the question. Complex gradients and shading and a lack of serious demand make this piece perfect for one off inkjet prints.
Here's what the artwork looks like to date;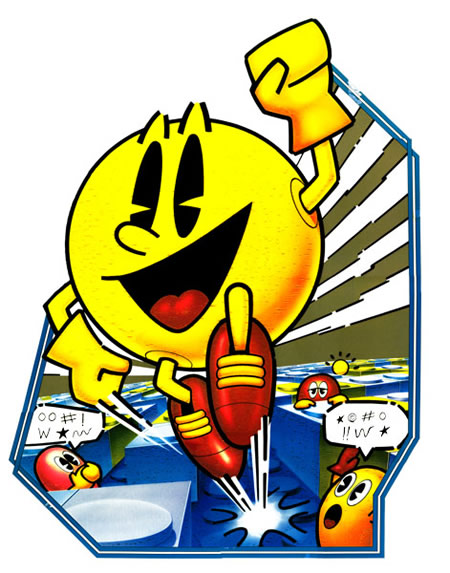 All that is left is for Rick to get back to Rich on some color matches and the prints will be ready.
If you want to read more details about the project, and why you should never download a piece of artwork from the Localarcade website and expect it to be print ready, visit Rich Lint's Pacmania blog entry for the week at CoinOpSpace.com.
Rich will attempt to post every Friday with one major update on a project he's working on, and hopefully 1-2 other smaller updates during the week, so check back often.
Update – February 1, 2009
Buy Pacmania side
If you didn't follow the first link, check out the final touches on the Pacmania side art blog. The artwork is now finished and you should be able to purchase a set for your arcade cabinet. Contact ThisOldGame.com for more information.
Here are some similar arcade posts
If you enjoyed this post, please consider to leave a comment or subscribe to the feed and get future articles delivered to your feed reader.