Yesterday I made a trip up to the Fishers on the northside of Indianapolis to check out Ace Gameroom, which opened it's doors in November of 2008. Ace Game Room sells everything you might need for your upper end gameroom, neon signs, pool tables, bars and of course, arcade games and pinball machines. This isn't necessarily something that your average collector is interested in as they tend to decoration their gamerooms with one of kind signs and classic authentic game artwork. However, Ace Game Room is smart in that they have positioned themselves as the pinball collectors friend, and I was impressed.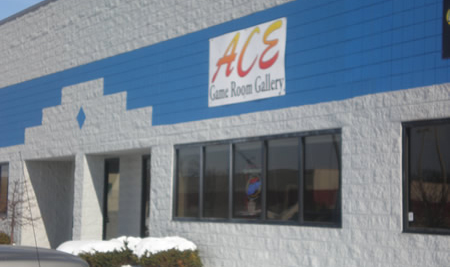 Ace Game Room will service your pinball in your home
If you collect anything coin-op related, it is obvious that there just aren't as many people collecting these classic games anymore. As a result, you really only have a few options in any given city to get any of these machines repaired or worked on for general maintenance if you don't do it yourself. In Indianapolis, there were really three locations last year – Wagner Gameworks, Arcade Services and Pinball Tek (Doug Clark). Having never personally had anything repaired at any, I had to rely on my own personal interactions and what other customers have told me to know about the business.
Other arcade companies in the area won't service in the home, more than likely for the obvious cost reasons. Mark Wagner at Wagner Gameworks has always been friendly with me, but I hear over and over from pinball guys that they don't trust the work he does on their machines. They get tired of hearing 'I'm going out of business', that maybe he is using that idea to make more sales on his games. Like I said, Mark has always been extremely friendly to me, I don't know what 'going out of business' actually has to do with the quality of repair, but certainly each circumstance is different and without more specifics can only be counted as 'hearsay' until you have your own experience.
I know nothing of Arcade Services other than when I called to introduce myself, Mike did not seem all that interested in making a trip to his shop to meet me and see what he might have for sale. At that time, this may not still be true, he implied that visiting Arcade Services was by appointment only. I understand that time is money, but I also think when business is hard to come by, service should absolutely come first.
That is where Ace Gameroom comes into the picture. Knowing that they can position themselves as the true customer oriented service partner in the Indianapolis area, they are offering in home pinball repair. I know I personally wouldn't even think of hauling my games out of my house to have them worked on, I'd rather learn any necessary skill to repair them myself and Ace understands that. I don't know what the rates are for an in home repair right now, but as far as I know they are the only service center the pushes this idea because they enjoy making in home service calls. Ace Gameroom shouldn't be a fly by night sort of outfit either as this is now a franchise that originally started with a location in Fort Wayne in the late 1980's.
Without a vast amount of pinball relationships Ace was smart to partner with Doug Clark which effectively absorbed Pinball Tek as well as all of Doug's existing customer base. Doug Clark has been repairing pinball machines in Indianapolis for going on 30 years, having been a part of many different coin-op services companies / distributors since the early 1980's. He's seen it all, in the heyday when these machines were making big money and has endured through all of the operators and distributors shutting down.
Indianapolis Pinball Tournaments
The reason Trevor dropped me a line was to invite me to come up to their first Pinball Tournament at their showroom up in Fishers and meet some other local collectors. The showroom is clean and comfortable, tiled floors, ample room to test out the equipment in a well lit space. I spoke in great length with Trevor, and you can see that he wants to really put the interests of the Indianapolis pinball guys first, putting on fun contests, opening up his showroom for events, etc. A great idea to establish their brand and build some community and trust which appears to be a void here in Indianapolis. Here are some photos from the showroom and from the tournament;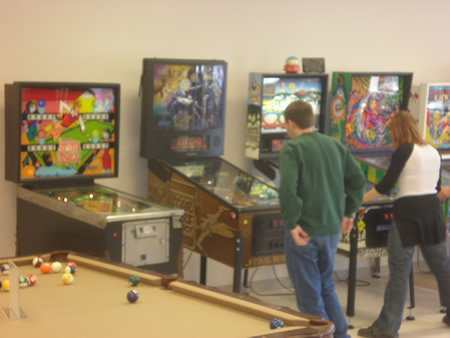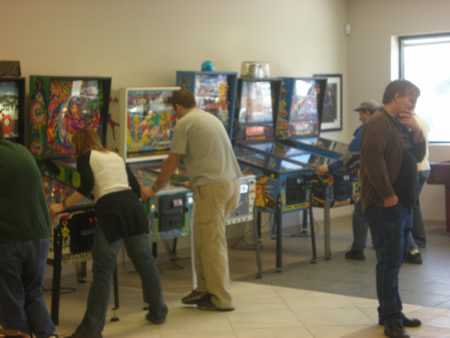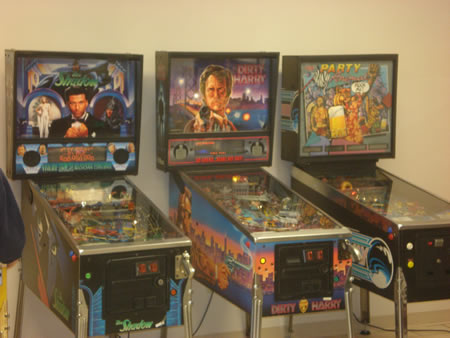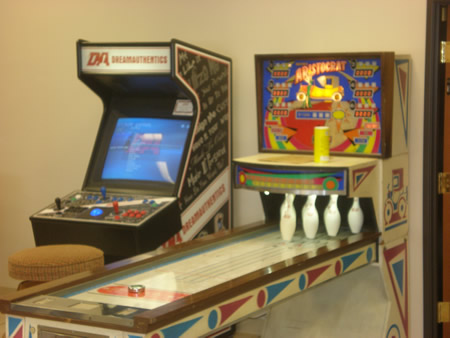 Ace Gameroom just launched their home entertainment focused website, which you can visit at www.acegameroom.com. If you have a pinball in your house even down on the southside in Greenwood and you need something fixed, call this number (317) 915-1864 and ask for Trevor and they will get squared away.
Being that Ace Gameroom is new, I don't have any ratings / feedback yet on their service. So, if you get your pinball machine repaired drop me a line or leave a comment here and give us some honest feedback about how their gameroom service / repair went for you.
Here are some similar arcade posts
If you enjoyed this post, please consider to leave a comment or subscribe to the feed and get future articles delivered to your feed reader.