Two months ago a user at Coinopspace.com – Arcade Community & Forum mentioned that they owned a 'prototype' version of Centuri's Eagle, a different version of the cabinet that was more rare than the final version which has vinyl sideart. Come to find out there is a photo on Klov.com and at Arcadeflyers.com of the same cabinet, which the latter flyer picture might explain the follow story and information a little bit better.
What was the actual limited quantity of these rare Eagle cabinets?
I wasn't able to find much of anything on RGVAC or Google concerning a 'rare, different or prototype Centuri Eagle cabinet'. But that doesn't mean that this topic wasn't discussed sometime in the past. If this version of the Eagle cabinet made it into the Centuri flyer then there were a small quantity of them made. If anyone has any links to posts / websites that talk about production runs on Centuri games, Eagle, or any information on the breakdown of the vinyl sideart vs. stenciled artwork let me know. If you remember, last year QuarterArcade sold a set of NOS Eagle artwork on eBay, it only went for $39.00.
Here is what the machine looks like from the photo Dan T. provided and the Eagle flyer at Arcadeflyers.com (Image Credit: AF Dan H.);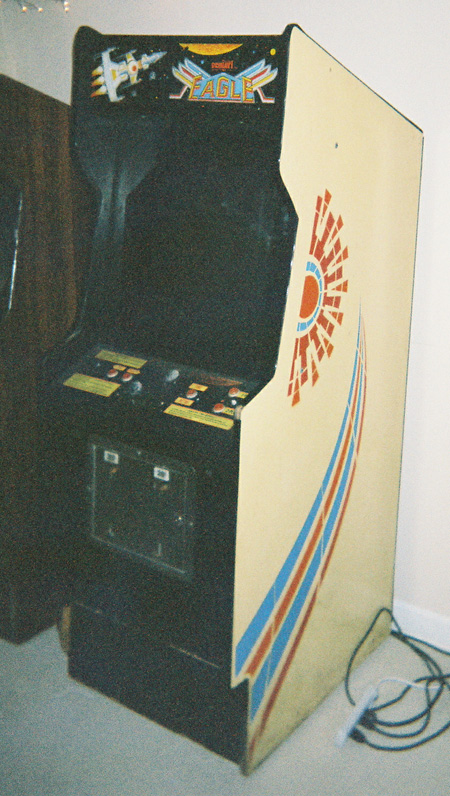 Here is Dan's story on this game, and thanks to Dan for letting me share his photo and his story of his out of the ordinary arcade game.
It started in June of 2005 when I met a guy who started working for his buddy, who was an auto mechanic. I saw the Eagle machine in an old Grumman (box) truck, next to a dedicated Pole Position II. I asked my new friend about it, here's the info I got from him:

He (auto mechanic) bought out an arcade in the spring of '05, which was located in Berlin, NH…WAY up in the state, close to the Canadian border (he doesn't recall the name of the arcade). I eventually bought it the following Oct. 2005, and it's been in my gameroom ever since.

Only 50-odd of these early run Eagle cabinet models were made.
The story snippet is pretty short, so anyone that can shed light on this including Dan, please do, leave a comment or email me.
Here are some similar arcade posts
If you enjoyed this post, please consider to leave a comment or subscribe to the feed and get future articles delivered to your feed reader.