Been waiting on new kickplate for your Mappy arcade machine? I posted awhile back about finishing the Mappy artwork separations and sending the files off to This Old Game. Well, today Rich posted an update at Coinopspace.com on his weekly Friday blog that he has been making the films and the artwork may print as early as this week!
The smaller the artwork, the easier the reproduction
Rich has a finite amount of aluminum frames that have been prestretched to use for burning films. This is an obvious bottleneck because these stretched frames are not cheap, and even at that they are hard to store, which he talks a little bit about in his post. But Rich must have just finished up a different project that freed up a medium sized frame to do the Mappy artwork. The main advantage of this simplistic character artwork is that each separated color is pretty tiny and could be fit on two screens.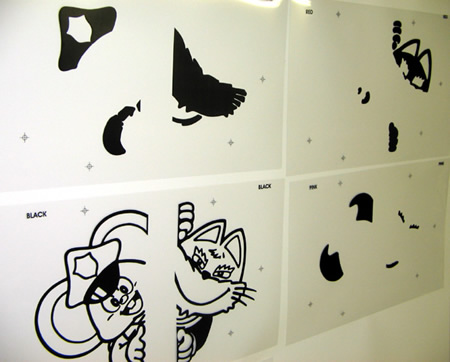 Updates will be posted several days, if not every day this week at Coinopspace.com so if you are waiting to get a set of these Mappy characters for your cabinet you'll probably want to follow along. Setup a profile and check in later in the afternoon, that is when Rich seems to post.
Who out there is waiting on Mappy reproduction artwork? I am curious, I haven't heard much talk but I think that is also because no one knew if / when repros for the kickplate might actually be printed. Now we know it's pretty close.
Here are some similar arcade posts
If you enjoyed this post, please consider to leave a comment or subscribe to the feed and get future articles delivered to your feed reader.