It pays to have a great network of coin-op collectors locally that will help you out in finding great deals on arcade and pinballs machines. In theory this may have been a good deal, a Free pinball machine on Craigslist, but there was a little bit of a problem….
Free 'used' pinball machine 38th Street Indianapolis
I have made some great friends in Chicago. I was out and about with family at the AMA, and we had just left when this friend gave me a call and left a message that generally said;
Hey Jeff, I don't know what you are up to, but there was just a curb alert in Indianapolis that came up for a free pinball machine. If you get this message and want, give me a call back.
Family be darned, I had to go look. I called the friend back, he gave me an address, I punched it into the GPS and we were literally five minutes away (where normally this was a 20+ drive from home). The timing was amazing.
The mouse-haven pinball machine story begins
We came around the back side of the road, and there it sat at the end of the driveway, painted over in grey and beleaguered – and as we drove close enough to park on the side, we could see something was amiss in the playfield.
My brother in law and I strolled up to take a look at the machine – what a doozie, no wonder it was free. Mice had made a metropolis in this EM pinball machine over the course of many winters I could tell. The pinball was originally a wedgehead – A Gottlieb Flying Carpet, or so we think under all the cotton and other nest material. Here is a photo from pickup;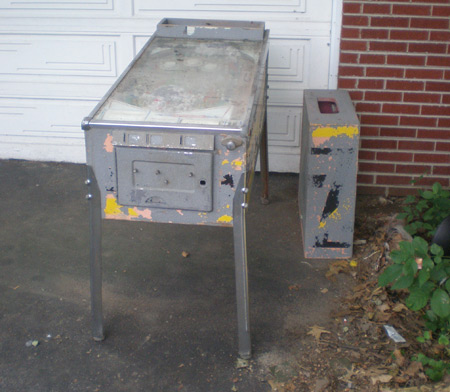 Storing the pinball until I was ready to work on it, you can see the nest on the playfield.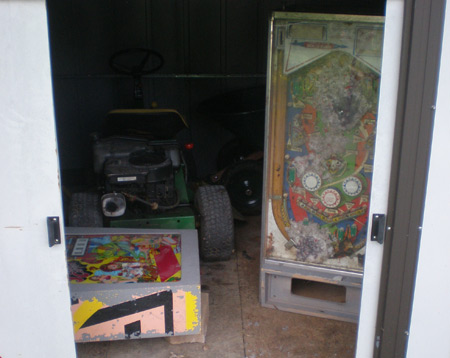 My wife was naturally not thrilled, free or not. She usually supports my hobby of refurbishing, collecting, selling pinball and arcade machines in Indianapolis, but she banished this one to the shed (the garage was too close to the house). That's fine, as long as she's supportive. This was Sunday, Monday I was leaving for Chicago to pickup my Universal Mr. Do!, so I just made a quick side trip to pickup this pinball machine first and drop it back off at home before heading up.
Cleaning the mice invested playfield
To make the rest of the story short – I took some very thick rubber gloves and took the time to start the process of cleaning the playfield out. It was nasty, the worst thing I've seen to date in a used pinball machine. Take a look at the playfield once the nest was removed;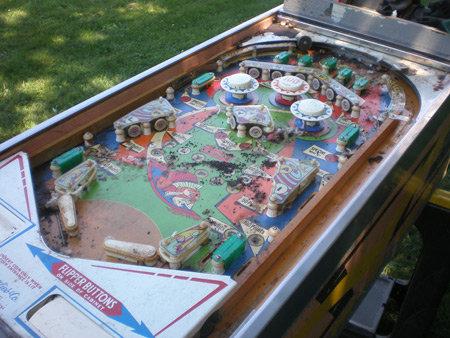 I took off all the plastics and rubbers, the rubbers frayed and decaying were about useless anyway. I also took a scraper and started to removed the textured grey paint covering the game to reveal the original artwork fairly in tact. Here is what the wedgehead looked like after I was finished (the face would not scrap off in tact, different type of paint finish)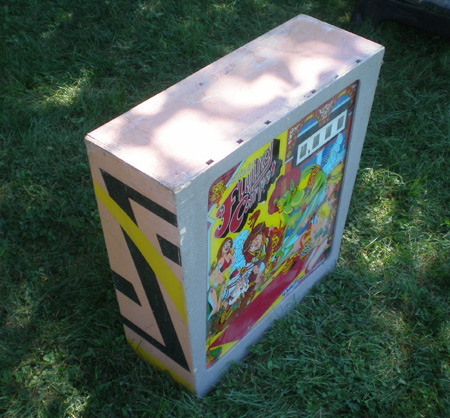 I never did finish my work that summer, I was still in the MBA program and had a lot going on. I ended up selling it to another pinball collector here in the area for cheap and he's done some amazing work restoring the Flying Carpet so far. Good project machine to learn the gamut of pinball restoration I imagine.
Pinball machine pickup in Indianapolis
If you have a used pinball machine, or arcade game in Indianapolis direct or surrounding suburbs / cities that you want picked up, shoot me a message. You see, I'm not too picky and certainly it cannot be any worse than the mice suburbia that I just sold. I buy and sell, (I won't try to sell you a pinball like this:)) so if you have coin-op games in Muncie, Fort Wayne, wherever – get in touch.
Here are some similar arcade posts
If you enjoyed this post, please consider to leave a comment or subscribe to the feed and get future articles delivered to your feed reader.