I was in the mood yesterday to do some tracing of arcade artwork, so I started working on the Mad Planets bezel. The high resolution bezel scan is available from a couple of different sources and from what I can tell appears to be an accurate file. The artwork itself is fairly boring, it's a good supporting piece for the whole cabinet, but if you compare the level of detail and composition this bezel artwork won't floor you. But tracing it, that's another story.
The main 'planet' has a ton of detail
Looking at the Mad Planets bezel, I was pretty confident I could crank through most of it in a coupe of hours, more repetition than anything else. There are a ton of little stars and the three planets are all very similar with a tri-tone pattern that creates a pitted texture. Here is where I got after a couple of hours;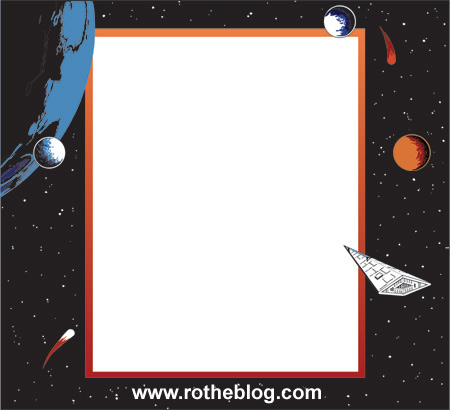 It appears as if one guy on BYOAC already started vectorizing the bezel, but never finished, and then had a computer crash and almost lost the Illustrator file. From what I can tell from the 'Mad Planets' bezel progress thread he started, we were at about the same place only I had gotten through more of the blue moon than he had. Check out the crazy amount of detail in the moon alone;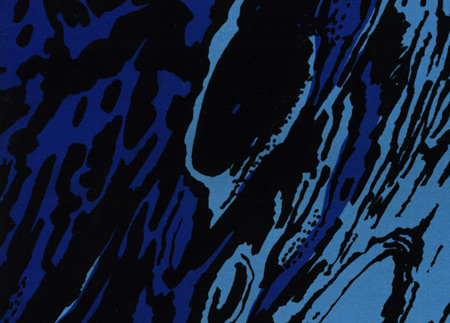 I have started a number of tracing projects that still need some time to finish, but unless personal circumstances come to the forefront this week, I anticipate I should be able to finish this by no later than next Monday. It will be good to have one more piece of Mad Planets artwork vectorized since there doesn't seem to be much vector artwork, if any, floating around for this game. There may have been a vector file for the Mad Planets CPOs that Quarter Arcade reproduced, but that is all.
If you know different and someone did finish tracing this Gottlieb artwork, fill me in – leave me a comment. The next piece that I would look at tackling would be the lower portion of the CPO.
Update 3.12.09
I am pretty pumped, I was really in a groove and finished up the Blue Moon artwork on this bezel on Tuesday night, which only leaves the blue textured pattern on the lower right ship, which I am half done with that. I am still shooting for Saturday to finish the Mad Planets bezel artwork, but it may be easier with only such a small section left. Hope to have an update soon.
Here are some similar arcade posts
If you enjoyed this post, please consider to leave a comment or subscribe to the feed and get future articles delivered to your feed reader.