Update – 5.1.09 This sale has ended, hopefully some of you were able to save some money on reproduction artwork.
This past week Darin Jacobs approached me about doing an exclusive deal here at Rotheblog.com, arcade game blog. Due to some great sales numbers in February 2009 that then spilled over into March Darin thought it might be nice to say thanks to the collectors for all of their business. If you have been looking to get a piece of reproduction artwork for your arcade game for a good deal, now is the time.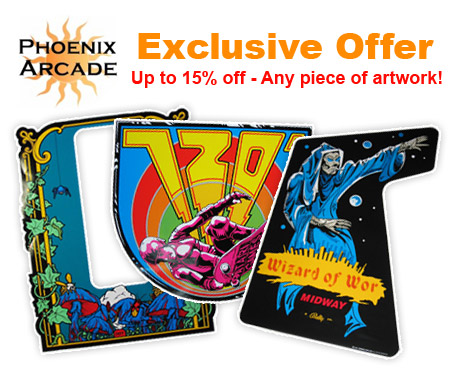 During the month of April 2009 you will get 10% off any order of artwork from Phoenixarcade.com. If you pay by money order or check you can get another 5% off your order, for a total of 15% off your total order. This offer can't be combined with any other promotional offer or gift certificate, but how many times to the online arcade shops offer up a sale? I can't remember one in recent memory.
What does this sale include?
Any piece of artwork from Darin's inventory which includes Wizad of Wor sideart, Baby Pac-man control panel overlays and playfields, 720 artwork, Millipede artwork, Centipede sideart, Donkey Kong sideart, Major Havoc and so much more. Every piece of artwork for sale on Phoenixarcade.com is elligible for the sale.
This is an exclusive deal here on Rotheblog.com, so in order for you to get the total of 15% off your order you need to mention Rotheblog.com and the sale code – pasale@rotheblog09 in your email when you make your purchase at Phoenixarcade.com. That's it! Pretty simple.
Remember, this special is only running from April 1st – April 30th so get on it. Pickup that piece of artwork you've been waiting on and restore that game, there's no better time.
A little more about Darin and Phoenix Arcade
Started in 1997, Darin is one of the few remaining reproduction artwork houses that provide resources to collectors to restore their classic arcade games. In the mid 90's Darin was restoring games hand over foot when collecting was booming and prices for games were soaring on eBay. At the time, Arcade Renovations was one of the largest suppliers of arcade artwork and Darin was one of their biggest customers. But Darin identified a need from collectors to reproduce some of the harder to find pieces of artwork where Arcade Renovations was not. Soon after Phoenix Arcade began as a small operation and quickly grew to a strong competitor for Arcade Renovations and later outlasting them altogether.
Thanks to Darin working with Scott Evans the collecting community has seen a number of pieces of Atari artwork reproduced directly from the original films. Small projects to large, Darin has a commitment to the community and only produces the highest quality products for sale at Phoenixarcade.com
Here are some similar arcade posts
If you enjoyed this post, please consider to leave a comment or subscribe to the feed and get future articles delivered to your feed reader.