Own a Kangaroo or Arabian arcade game? Francis M. is checking interest to see who might want to see some control panel overlays reproduced. The reproduction would be silkscreened, reproduced directly from scans of never applied overlays that he has access to use. Like any of these projects, this is a feeler and would take at least a pre-order of 5 pieces, probably more.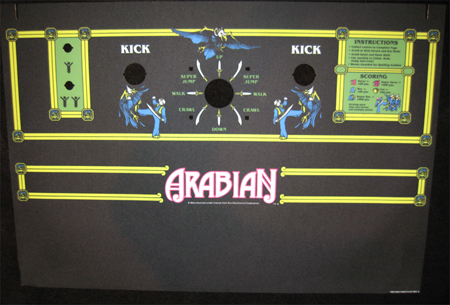 Tempest and Black Widow artwork was in the mix too
Black Widow sideart has been printed digitally by Archer in small quantities and Tempest marquees, well, those abound in supply but are questionable in authenticity. Black Widow is a more desirable game in general than Kangaroo or Arabian (especially) so there could be some demand for silkscreened cabinet artwork. But Tempest marquees have always been the source of debate due to the nature of the illustrative artwork, either the colors are wrong, or there isn't enough detail or something else is inaccurate.
If Francis would be willing to fund one of these projects, you know that it will be done right, he's very focused on quality.
I haven't seen enough interest in the Artwork repro interest – Tempest and more thread on Coinopspace.com, but maybe he's had some private messages. If you want to see this artwork done, take some initiative, contact other owners of the game and see if you can help drum up 10-15 interested parties to make one of these projects happen. Leave a comment in that thread. Thanks to Francis for letting me use the Arabian CPO image.
Here are some similar arcade posts
If you enjoyed this post, please consider to leave a comment or subscribe to the feed and get future articles delivered to your feed reader.