I do feel like luck has been on my side lately. First, there was that Mad Planets in Chicago that sat on Craigslist all day that I ended up getting for $50. Then, less than a week later, I had another amazing find fall into my lap (which I hope to write about in June), and then tonight I picked up a Galaxy, Hyperball and Flight 2000 for $150.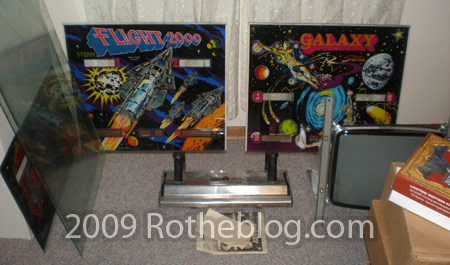 The story on scoring these three pinball machines
Last night was the first night since Sunday were I was able to come home, free from class and consulting work that I had the whole night ahead of me. It's so refreshing to just have an opportunity to do whatever, those opportunities are few and far between. We rarely get fast food, but my wife wanted to try the new Roastburger from Arby's. We were gone for about a half hour and when I sat back down to blog, do homework, or whatever I took a look at my feeds.
In that half hour someone had posted an ad on Craigslist selling three pinball machines for $50 each, including a Hyperball. Here is the ad;
This was so weird, because I had never heard of Hyperball until about three weeks ago. There was some conversation in the live chat with another collector on Coinopspace (Video of the gameplay) about how unique the gameplay was, and here one popped up for dirt cheap in Indianapolis.
Convincing myself the pinballs were gone
Seeing that the ad had been online for only a half hour I emailed the guy, anxious and excited that I might have a chance to get these games. Then the waiting game. The unique excitement is one of the great things about this hobby.l Sure enough, five minutes later he called back. Within ten minutes I had arranged a truck and was headed out the door to Broad Ripple area in Indianapolis.
Indianapolis is home to a pretty decent collection of pinball collectors. It seems like lately a lot of them have been downsizing their collections but I knew one of them must have spotted this ad. The whole way up, I figured one of them got a hold of the owner, made some other offer and I was going to make the long trek up to the north side of the city and have nothing to show for it.
But, I was lucky. All three of the pinballs were still there, looking glorious. The photo below will take you to a small gallery of photos that I took during the dis-assembly.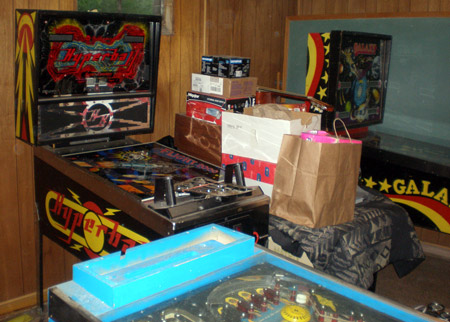 I know a little bit more about the games after chatting with the previous owner while we took them apart. Seems as though he bought them at auction quite a few years ago, I assume locally here in Indianapolis. He told me that he and his partner played them after a long day running their computer startup to blow off some steam. He said after that he went into the family printing business, which I believe he stated was 23 years ago. He said the two Stern's don't completely work and said that he had intentions of getting them fixed. His children would always ask when, but he never got around to it. His son is now a junior in college.
So that mean that he has owned these pins anywhere from 17-23 years. I am guessing based on some of the wear I am seeing it is on the lesser side. But regardless, he's owned them for a long time, maybe since around 1988. He was downsizing the house and didn't want to take them with him. The house was probably built somewhere in the mid 50's, which meant that the steps were steep and narrow so getting them out on a hot night was no easy task.
After about 2:30 hours of work, I had everything loaded up in the truck, which you see in the photos above. It was tight, I had one head sitting with padding on top of the body, and all of the glass sitting up in the cab with me. I hung out the window with that tiny bit of space for the 25 minute drive home.
What now? Do I add three pins to my collection?
Not likely. I am still an arcade guy and I don't have the space for three pinballs. Nothing is set in stone yet, but I am thinking about what to do with the two Stern's.
I had been passively investigating the different machines in hopes of adding one pinball to my collection and my thought right now is that I am going to keep the Hyperball. It might be perfect for me. As I read more on the history, it seems like it was meant as more of a video game theme than your standard pinball, and I just love the plexi backlit red playfield and the rapid fire nature of the game. Not to mention, it is apparently the one that is closest to being fully working, if not ready to roll. But I have yet to play it, and wonder if it will hold the interest for a long time or not.
Originally when I saw the ad I thought for sure each of these pinballs, being solid state, would be worth as much as $500. They may be, but from what I can tell the Hyperball, even though a touch rare at a production run of 4,500 units, would be hard pressed to command a $500 price tag.
But, I don't have time to tinker around with the other two and get them running. Drop me a line if these are your 'dream' pinball machines and leave a story or two in the comments.
Here are some similar arcade posts
If you enjoyed this post, please consider to leave a comment or subscribe to the feed and get future articles delivered to your feed reader.