I believe I just finished a chapter in my life that I will look back on and think "Wow, how did I ever make it through that?" I was a full time MBA student, taking three courses during one semester, and one of those courses included Corporate Finance (where cohorts have been known to drop out in the middle of the semester because you need a B or higher to pass the class). My wife and I welcomed our first child, which has been quite a journey in a short time, and then there was freelance work as well as maintaining this blog and Coinopspace.com.
Coming off that stress I find that there can be a need to decompress. There certainly is plenty to do, and I have about 20 plus blog posts that could be written at any given time. A few days of relaxation can recharge that driving spirit. That is why when I saw this photo tonight I thought I would share it with you all.
My beloved dogs
My wife and I knew soon after we were married that we wanted a dog. We used our money wisely and finally bought our first home and four years later we got our first puppy. Then, we promptly lost him just a few weeks later. Our passion never wavered, only deepened – and now we own two dogs that we love very much – Boomer and Nokes.
This weekend one of my closest friends was down for the weekend. He took this amazing photo of them in action;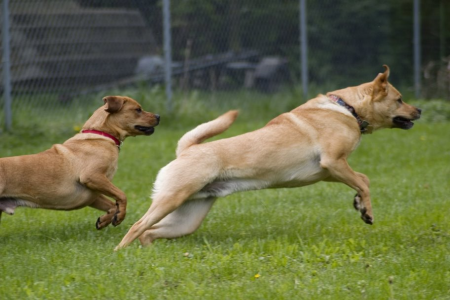 My friend Justin is an engineer who takes some tremendous photographs in his free time. I had a feeling he'd have some good shots, and this was just one of many but this one in particular was quite fitting.
Swiftly and with focus it will soon be time again to seize the day. Certainly something I learn more each day is that nothing happens overnight, and it's only with drive and focus that little by little big success can happen over time. If only I could look as awesome as my dogs in my own pursuit 🙂
Here are some similar arcade posts
If you enjoyed this post, please consider to leave a comment or subscribe to the feed and get future articles delivered to your feed reader.