There are so many loyalists to Photoshop among the design community that feel like Photoshop is the be all – end all to any graphic editing needs. However, as a designer we all know that reducing time = better efficiency = greater profitability. So why don't more designers use Adobe's Fireworks for exporting graphics instead of Photoshop? Slicing in Fireworks can cut your time in half – here's the comparison between Photoshop and Fireworks.
Fireworks was built with the web designer in mind
Last week I pointed out Photoshop's issue with opening layered pngs. Photoshop also stumbles in the way of web editing because the feature sets have always been an afterthought. Let's start to add up the seconds you can save for each time you edit a graphic or slice within a web document. Let's assume that in the course of a layout, you edit all of your aggregate slices 30-50 times.
If you are creating even remotely graphic intensive designs in your firm or your day to day life, you know the importance of slicing. I won't get into a long explanation if you don't know what slicing is, but generally know, slicing is the idea that you define square and rectangular areas of your layout to export as individual images with potentially different image qualities based on their graphical makeup.
Slicing your layout
Photoshop has a slice tool in the toolbar and you can easily click and draw a rectangle over an area to prep for export.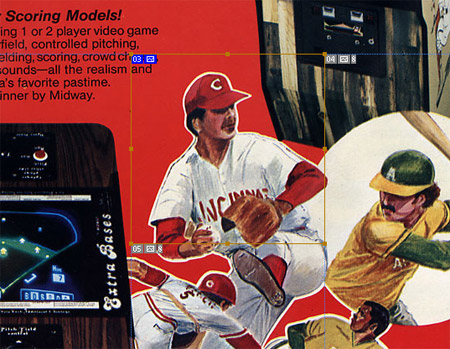 Here I've drawn a Photoshop slice over a flyer for an arcade game called Extra Bases. You can barely see the brown (selected) slice outline, as well as the other slices in light dotted blue. If memory serves me, there is a way to chance the visual look for slices in Photoshop, but this is the default look. (Meaning: You have to spend extra time on every install changing it if available.)
Now let's look at how slices look in Fireworks using the same image.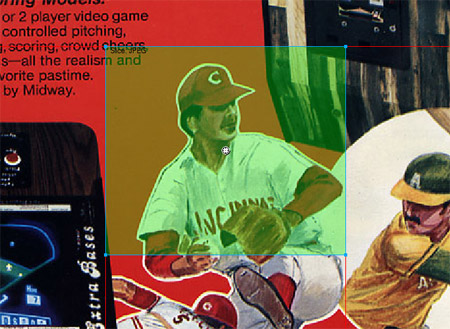 It is so easy to see the slice you've made, it's in light green. In both Photoshop and Fireworks the power user shortcuts make it easy to turn slices on and off. Fireworks, you just hit the number 2, and in Photoshop it's Ctrl + H. But Fireworks, in my opinion, makes it easier later to select the slice. You just your ubiquitous 'Pointer Tool' to select any and all objects on a Fireworks canvas. With Photoshop, you have a special slice select tool, that is the secondary option in the slice menu option and you have to cycle through (Shift button modifier) to get to it.
Time saved: 1-2 Seconds
Naming Slices
Fireworks and Photoshop are fairly comparable in this regard. If you are smart, you will name your images will specific names that will bring you image search traffic. To name your images when slicing them within a larger layout, you actually give the slice a name. In Photoshop, you have to break out the slice selection tool and double click the slice to change the name.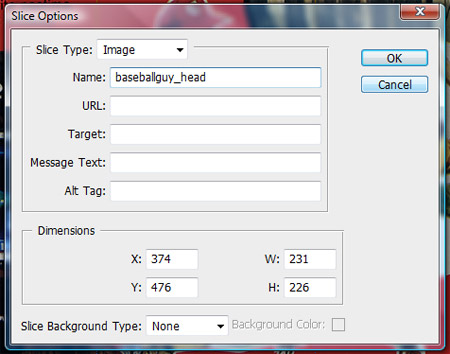 In Fireworks, use that same 'point tool', click the slice and in your properties panel in the lower left you just start typing and hit enter when you are done and the slice is named.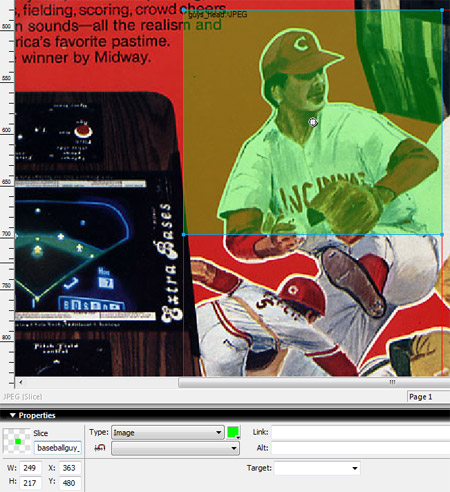 Fireworks even goes a step further and adds the slices as an editable object in your layers palette under a sub folder called 'Web Layer'. At any point in time you can just click the double slice layer and rename it, going right now the list. No doubleclicking each slice. It's that extra thought in editing that makes the workflow much better for web developers.
Time saved: 1-2 Seconds
Exporting Slices
Holy cow does Photoshop fall down flat here. When coding an HTML page from scratch, I know I may adjust my layout to allow for repeating graphics, alignment, etc. etc. I only want to target one slice, and export that one slice.
In Photoshop (remember you have to cycle through to a specify slice selection tool), you select the slice and then you have to 'Save for web'. Poweruser shortcut of Ctrl + Alt + Shift + S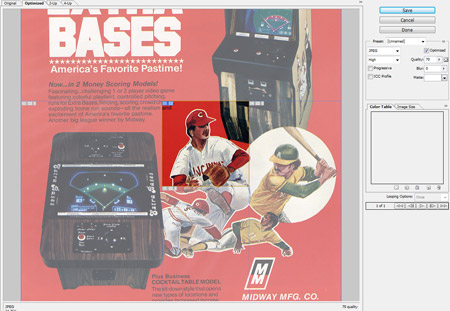 Now, if you want to save just that slice, you have to click on it, hit 'Save' and then by default Photoshop wants to save every slice. You have to choose from the dropdown menu that you only want to export the one selected slice.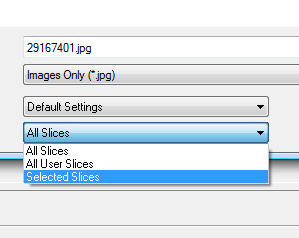 And done! Only five easy steps to click through. Wow.
Let's compare that to Fireworks.
You are using your general 'pointer tool', you right click on a slice and you choose 'Export Selected Slice' like so;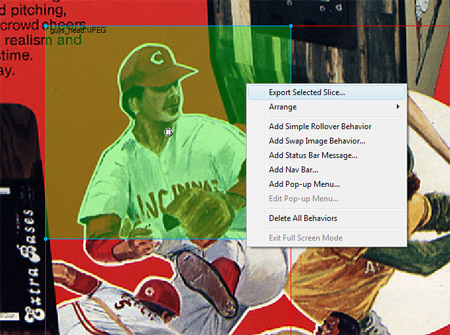 If you notice, by default you will see that Fireworks has understood you only want to export this one slice, not the whole document and has checked the according box.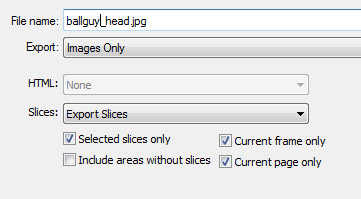 You're done. Plus, the other great thing is that once you export the document as a whole once to a folder, Fireworks remembers your export location and when you right click to save that slice, it will place you in the same directory as before. Photoshop will do the same thing, and it will remember if you choose 'selected slice', however….by default Photoshop will always stick your image inside of an 'images' folder. So, if you want to export your image to images > arcade > extra bases, Photoshop will add an extra 'images' directory inside of there to put your image for no reason at all. Memory serves me that there is a way to change this, but again, not a default setup.
Time saved: 7 Seconds
Many more web graphic advantages to Fireworks
You can see, you can save on average over 10 seconds of time per slice, or possibly 3-5 minutes over the course of your layout.
Granted, 3-5 minutes may not seem like much, but a power user will really appreciate that. 3-5 minutes can save you some money, but it also means you have to spend less time making something work and more time designing or just relaxing because you are more efficient. This is just one tiny granual of why Fireworks is better than Photoshop for building out website. Even at 3-5 minutes per feature and 10-20 better features, you are looking at a ton of time saved.
Prior to the Macromedia / Adobe merger in 2004, a designer could use the excuse that they didn't have Fireworks and they weren't going to buy it. That's fine, a good argument. However, Fireworks now comes with the design package branded as a 'rapid prototyping tool. So if your excuse is that you are heavily vested in Photoshop, and would rather something take more time than learn something new then you may be in the wrong industry. Technology moves too fast to stay stagnant and there is too much to know already.
Have other thoughts? Think I'm wrong? Have another piece of software that is even faster for exporting web graphics? Leave a comment, let me know.
Here are some similar arcade posts
If you enjoyed this post, please consider to leave a comment or subscribe to the feed and get future articles delivered to your feed reader.