Collectively day to day we repeat a routine, and that is no different in blogging. There are certain blocks of text or HTML that we find ourselves typing time and time again. Phrase Express can cut down on that time significantly, maybe by as much as 20% and its so easy to use.
Text snippets with Phrase Express
For quite some time now I have been searching for another solution for creating blog posts that would cut down on my time on a per post basis. Some posts can take as long as an hour, and I haven't had too many posts that come in much under 20 minutes. I shudder to think about the time spent on this site in the name of 'passion' (1,500 posts).
The largest block of time where some efficiency could be improved is in my HTML coding and image insertion. I had found myself typing the same div and img tags constantly, and while this is good practice, at some point I need a better solution. This is where Phrase Express improves my conception to publish timeline. Here is a screen demonstrating one 'code snippet' I've setup;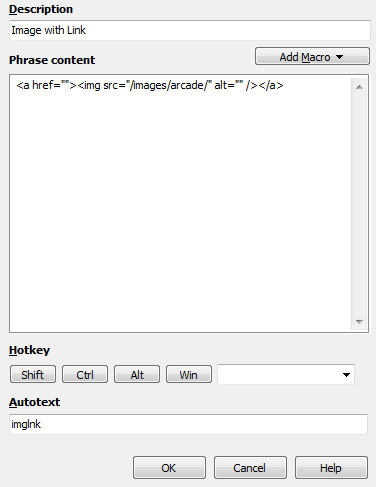 I don't use the built in WordPress media library. I like to organize my image by semantic directories, which is beneficial for image indexing as well as saving my old memory. Who wants to try to remember what day / year I posted about the Dreamweaver – Adobe merger? It makes much more sense to file that under something like images/design/news.
In this screenshot you can see by typing six characters and a signal key, Phrase Express will then delete and rewrite the snippet of code I need. I this case it is 'imglnk' will type out a base link and image HTML snippet. Either I can type this information into a 'new snippet', or at any time you can type text in any piece of software, highlight it, and tell Phrase Express to save the snippet.
Why not use the WordPress GUI Editor?
Some people would ask "Why don't you just use the GUI in WordPress?" There is a certain flow to writing a post. The GUI has the ability to insert an images with alt tags and links if you know the paths to those items. There are even WordPress plugins that insert custom HTML tags. But in the end, I still have to go back and add specific classes and titles as necessary as attributes and sometimes custom image widths and other 'one off' codes. With Phrase Express I have granular control to insert as specific of a code snippet that I re-use as I want. With WordPress I still have to go back and manually insert what I need.
How much time can you save using Phrase Express?
I would venture to say that I think I can save upwards of 10 minutes per post, depending on the detail to give you an idea. Phrase Express is free, easy to install and easy to use.
I have found that Phrase Express is not completely stable. I will be working in something completely unrelated and all of sudden the program will error out and quit, sometimes even when I come back to an idle computer I'll see the program has shut down. Not a big deal, it's never made my system unstable. I also find it a little strange that when you have the snippet editing screen open Phrase Express stops working, but again, small thing that really isn't a big deal. Usability-wise I would recommend the software to get up and running in less than 10 minutes.
Experience with Phrase Express?
Or another automated snippet generation software? Let us know how Phrase Express has benefited your flow of posting or what problems you might be having. Thanks again to Brian on pointing out Phrase Express.
Here are some similar arcade posts
If you enjoyed this post, please consider to leave a comment or subscribe to the feed and get future articles delivered to your feed reader.