In June of 2007 I picked up a Frenzy at a local auction for a song, something like less than $30. I knew nothing of the game at the time, but playing it in Mame I could tell it wasn't one I wanted so I traded it away. Since then it's been traded to another collector and this time I think it's finally getting the appreciate it deserves.
More permanent home for Frenzy in Michigan
In August of 2007 I traded my Frenzy to Tim in Michigan for a handful of essentially empty cabinets. We met up in Fort Wayne, and he brought me a Tempest cabinet, Tetris Dynamo, Food Fight cabinet and Xevious cabinet. Supposedly Tim really loved Frenzy and wanted the game for this collection, and at the time I was optimistic about the other cabinets. I thought briefly about piecing together the Tempest, I like Tetris, and thought at the least I could uncover the Food Fight artwork, save a side and maybe the same with the Xevious (or piece it back together). Plus Tim brought along a lot of artwork from other cabinets so that I could scan them at the Pizza Hut with my laptop, which was a nice gesture that was surely an inconvenience for him.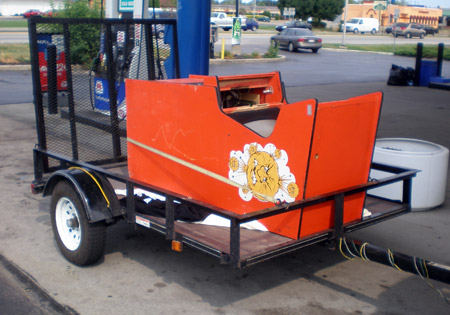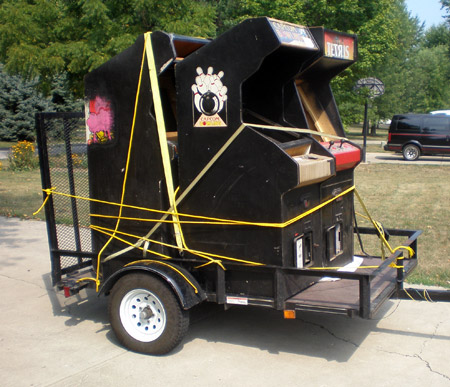 Cost wise it was a wash, but I always find value in trading a game of great condition to someone who really likes it. I like to see the game get used and appreciated, and as long as I recover costs I'm good. In the end, I resold every game from this trade, the Tempest the day after I got back, the Tetris in a small bulk deal, and the Food Fight and Xevious individually. Tim got Mark Spaeth to stop by and install the upgraded Berzerk / Frenzy combo board in the machine which gave him a dual working game. The original boards had the typical acid damage, and even though I started to troubleshoot the board problems, I figured this was a better deal all the way around.
Frenzy got traded again
But, the Frenzy wasn't loved as much as I thought. It might have gotten a cursory cleaning, but nothing in depth, and a couple months ago Tim traded the Frenzy for a Hogan's Alley to Bill J. up in MI. Here is one quick 'before' photo and some photos of how the Frenzy looks now after a fresh coat of paint and a ton of other cosmetic attention;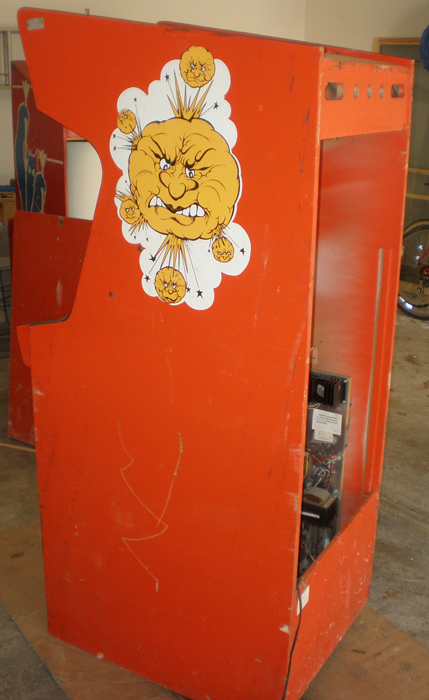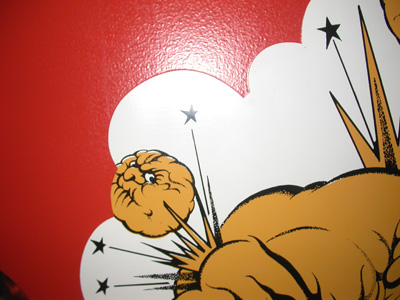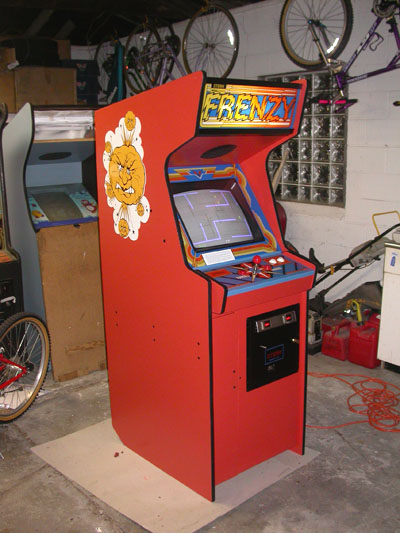 I definitely think Bill got the better trade, this Frenzy's sideart is in amazing condition. I was disappointed though, to see it traded away so soon, after all of the effort to make the trade in the first place. Transporting games is always a chore for me since I don't own a vehicle myself, so I always have to use my local network to borrow. I had to call in a big favor to bring back those four cabinets, both a vehicle and a trailer, and I decided that was the last time I could ask those acquaintences for a favor.
So, I'm just glad now that it has landed in the hands of someone who really likes the two Stern games, and is giving it the restoration it deserves. I find the movement of games particularly interesting, how they end up in so many places over the course of their lives and a couple of us have wondered how the Frenzy ended up at the auction in the first place. Heck, some of those cabinets I got from Tim came from an old operator out of Illinois where he made a couple of trips to pick up something like 30 of them!
Frenzy refresh is finished
It sounds like Bill has finished working on it, patching holes, cleaning it out from top to bottom, repainting the orange on the cabinet as well as repainting the screened metal control panel. Read more about Bill Frenzy restoration at Chomping Quarters.com. Here is Part 1, it looks stupid awesome – brand new. Great job Bill.
Here are some similar arcade posts
If you enjoyed this post, please consider to leave a comment or subscribe to the feed and get future articles delivered to your feed reader.