Fun, short little story, we all know this hobby is 80% timing. Today we've got a story and photos showing a small building with some pretty common arcade games. It is a connection five years in the making, persistence is the word.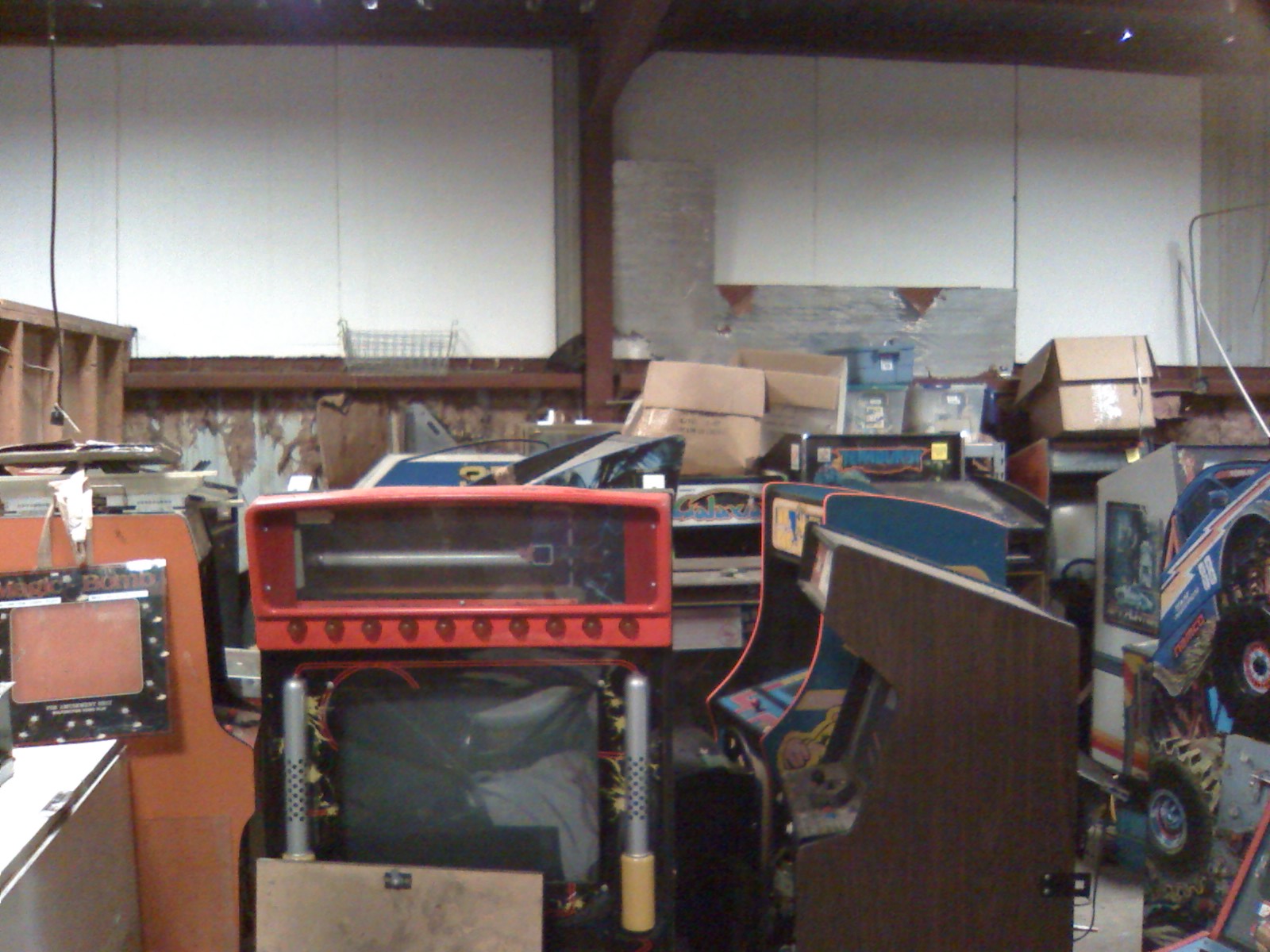 Best Buy – A Williams Defender for $25!
I don't need to tell the story myself, I'll just relay what was told to me;
For years I had made it a point to visit a drive-in at least once a year as, just like arcades, that type of venue was near extinction.

About 5 years ago I was in the snack bar/game room of one of these and noticed that some of the games were non-working. I asked one of the workers about them and was directed to an older gentleman outside who turned out to be the owner. He explained that his family ran a route and he had a ton of non-working equipment. He offered up that he had 3 non-working Dig Dugs and if I repaired two he would give me one as payment. He told me to contact him through the Drive-In's website.

Turns out whoever ran the website would not forward him my e-mails for whatever reason. The next couple of times I went, he was not there. A year or two later, the Drive-In started to have very sporadic operations. One year it only opened for half the season, then didn't open at all for a year, then opearated for a year normally. I had heard that the owner was sick. About two years ago, it didn't open at all and appeared to be closed for good.

In the mean time, I had made good friends with someone local to the area (which is no small distance from my home!). My friend 'John' knew the son of the owner and new current owner. 'John' had been trying off and on to contact him with no luck. After I prodded 'John' for a bit he remembered that he knew a guy who saw the new owner once a week. Two weeks later, we had a date to check out the warehouse.

I expected the showing to be weak and I was not disappointed. I knew these guys ran a route and worked their games until they were beat. From what I saw in their local game room, at least for the classics, maintenance was lacking. Click on the photo below to enter a small photo gallery of the games.

There was quite a bit of JAMMA stuff but that is not my thing. There were a couple of small shelves of parts and panels and art. All in all there wasn't anything there that "blew my skirt up" but there wasn't much if any water damage. It is what you would expect to find in an average warehouse from a small rural operator.
All arcade games for similar cheap prices
The Defender you see briefly in the photos had an extra boardset and 'John' picked that up for $25! There was a note on it noting some display issues, the overlay was cracked and it was obviously dirty and a worn but for no water damage that is a heck of a deal on that classic. Couple of the items in there – a Dig Dug, couple of Ms. Pac-man, a Spy Hunter and four or five Pole Position II's.
Supposedly there is a Tron in the mix and a couple of other games 'that would be really interesting', not in that location, that would be there next ime. Huge thanks to Pat for the story, he certainly can turn up some remote locations.
Stay tuned for updates on a return trip.
Here are some similar arcade posts
If you enjoyed this post, please consider to leave a comment or subscribe to the feed and get future articles delivered to your feed reader.