I pick the most interesting days to make trades. This week we had some awesome weather, but I made plans to trade my Craigslist deal Tunnel Hunt for an Omega Race cocktail the day the rain came in with some fury. Everything worked out ok, close the chapter in my Tunnel Hunt saga.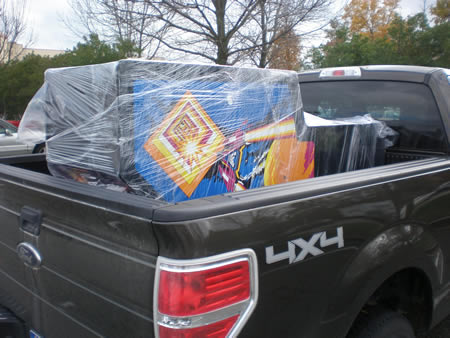 Tunnel Hunt is appealing to a select collector
That collector who loves history, and likes really really old games. I loved that Tunnel Hunt. The cabinet rocked, very unique, the plastic molded front, the artwork, everything. As I had said, the idea and integration of that idea into the cabinet was sweet. But gameplay – eh, not enough to make it into the limited space.
I didn't have to do much to get the Tunnel Hunt working, check some wires, do some simple tests and it fired right up. Selling it was another issue. To quote another collector back in August "Absolutely no one wants Tunnel Hunt". Ha ha. Awesome. And as time went along, I found that to be true.
Trying to sell a Tunnel Hunt
Tunnel Hunt sat on eBay off and one for almost two months. Its a pretty uncommon game (except when the free Tunnel Hunt showed up in San Francisco on Craigslist last month), you just don't see that many of them. Even RGVAC has very few 'Tunnel Hunt' posts. The few times I could find information about the game, it seemed to sell in the low $200's, if that. So many people just want the board, and the game gets parted. But I couldn't bring myself to do that. But it was a challenge, especially in a market where game values have been slashed by 50% now.
It started to become about getting the Tunnel Hunt to someone who really wanted it. In stepped Mitch Rohde.
Mitch has collected some arcade games
Mitch has been doing this awhile, about a dozen plus years now. If only I could tap his brain and had supporting photos, I'd have stories for this site until the end of time.
I had emailed him originally inquiring about his Sinistar, and we got to talking about the Tunnel Hunt. We talked for about two months. I was mildly interested in a Omega Race cocktail, because I want a Galaga cocktail, and I figured maybe I could just convert this one. (I have no idea if they are 'exactly' the same, don't really care right now) But it would be costly, and this Omega Race wasn't complete. In the least it was missing the top glass. Like many games, it was plenty dirty. It had come out of a warehouse in Detroit in the late 90's, and had been sitting for the past 10 years waiting for some use.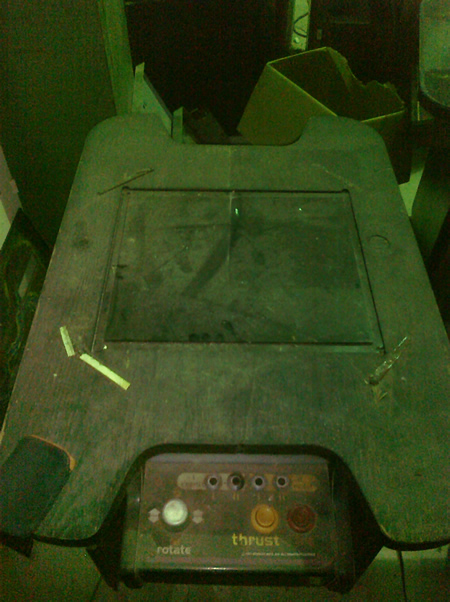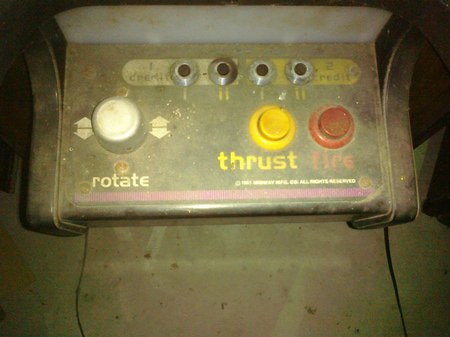 But as day to day life of collecting passed by, other pieces came together – a new piece of glass for the top, the potential of a trade for an underlay and two unpopulated but artwork adorned cpanels, and hopefully a trade on the boardset. Plus, Mitch was gracious enough to meet me on the northside of Indy, all the way from Ann Arbor and save me a lot that way. And I get some space back in the garage, which is huge with winter right around the corner.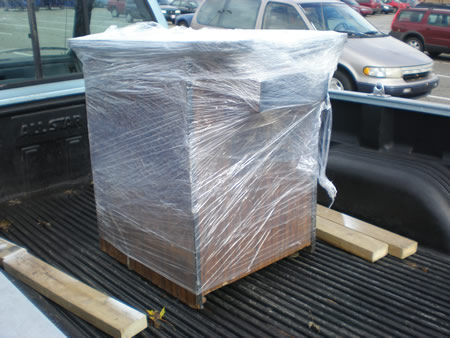 You've seen the photos, and I'm happy right now about the deal. What do you think? Even swap? (Dirty cabinet / graining cell phone photos aside)
I am going to be selling / trading the guts, so if there is anything for an Omega Race cocktail drop me a line.
Here are some similar arcade posts
If you enjoyed this post, please consider to leave a comment or subscribe to the feed and get future articles delivered to your feed reader.