Just before we left for the Pinball Expo 2009 in Chicago, I had seen a post on RGVAC for a guy in Lafayette Indiana who was wanting to trade a complete Xevious for a different empty cabinet. Three weeks later and some leg work, we finally made the trade.
Xevious – Awesome cabinet artwork, questionable gameplay
When I first got into collecting, most of my friends started to recollect the games they loved growing up. One of my high school buddies really loved Xevious, which was originally why I picked up an empty cabinet from Tim back in 2007. Soon after, I realized that an Xevious would bring $300 max to the right buyer, probably $200 for a fair one any other day. Piecing one together would cost at least 75% of that amount, so I gave up and sold the cabinet.
But when I saw another Xevious, come up for sale in Lafayette that compulsive reaction kicked in and I knew this was a deal I had to at least attempt. I have not seen an Xevious come up in Indianapolis since 2006, and the only other one I know of is in great shape owned by Ted D. out on the west side. Here's a photo of his, the glass is flaking….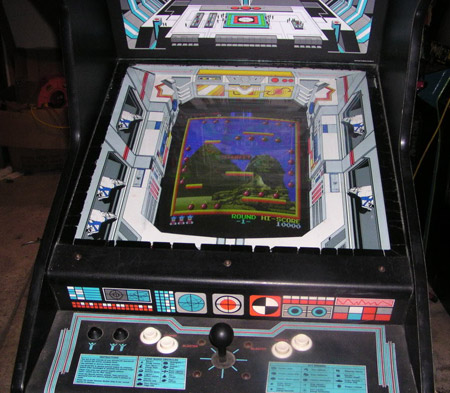 The owner didn't want to part out and Mame a classic game, so they offered to trade the Xevious as is (with a ROM error) for a Jamma style cabinet with a large control panel to accommodate a bunch of different games.
Trying to source a Jamma cabinet around Indianapolis
I looked for three weeks, and had a hard time finding a larger Jamma cabinet, with coin door, for a cheap price. Finding an empty arcade cabinet when you really need one can be truly challenging. Not to mention, I wanted it cheap, because this wasn't a 'must have'. But at the same time I discovered the Tron south of Indianapolis in Bloomington, I was also able to pick up a Pit Fighter cabinet and distribute transportation costs. Cabinet was perfect for Mame, with a slide out drawer already built in and the large metal frame for mounting is always a plus.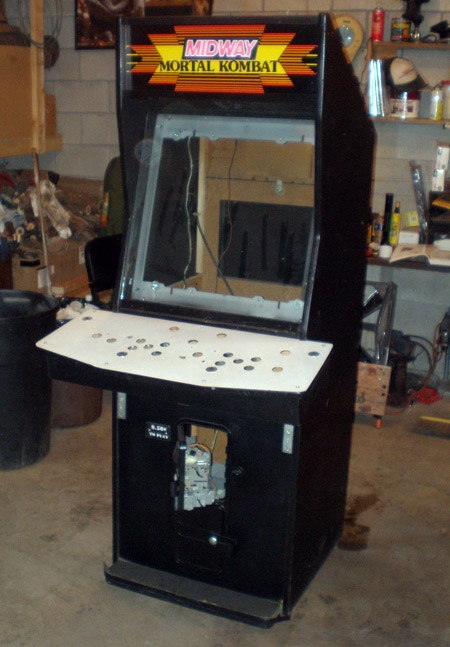 Today I went and picked up the Xevious. I think on paper this was a good deal, but certainly after I saw the game in person…I don't know what will be its fate. The cabinet has absorbed some moisture all around the borders on at least one side. I knew there were a couple of corners with missing chunks but the edges are really ratty. I made some image adjustments to the second photo to show some of the swelling.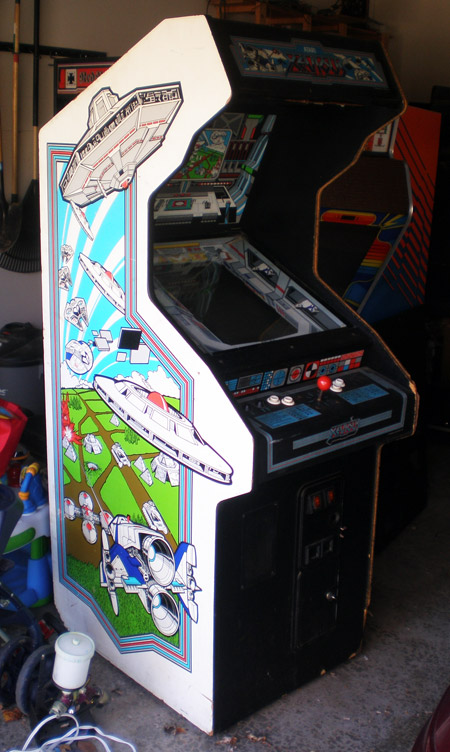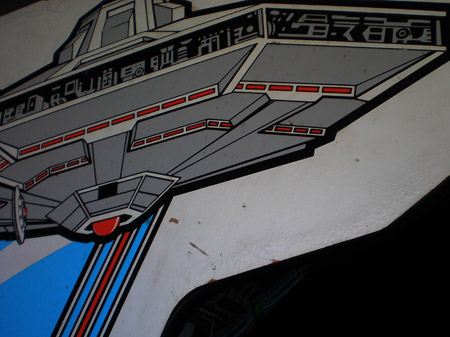 The original idea was to keep Xevious in the garage permanently, get it running, see what it was like to play in person (try to ignore the annoying music), and entice my friend for a visit to see if some of his enthusiasm for the game would rub off. It is truly a beautiful cabinet, so much artwork, similar in that respect to Tron. I thought maybe I'd missed something in the gameplay on a multigame setup or on my Jakks stick.
I suppose if someone came along and needed all of the guts for an Xevious for a fair price I probably would have to snatch that up.
Xevious lovers – Why?
For those of you who love the game, can you articulate why beyond nostalgia? The scrolling background in the game never changes, does it? Do the enemies ever change, and their attack formation?
Here are some similar arcade posts
If you enjoyed this post, please consider to leave a comment or subscribe to the feed and get future articles delivered to your feed reader.