Friday I wrote that I finished re-stenciling another Ms. Pac-man, this time for another collector here in Illinois. Part of the exchange included a complete and supposedly working Warlords.
First Atari arcade game in my collection
Kind of weird to think that Warlords is the first Atari game that will permanently be in my collection. Warlords has a nice blend of classic and mindblowing artwork. The cabinet has a largely orange, red and black color scheme, with some standard colored bars melding with a stylized knight and horse.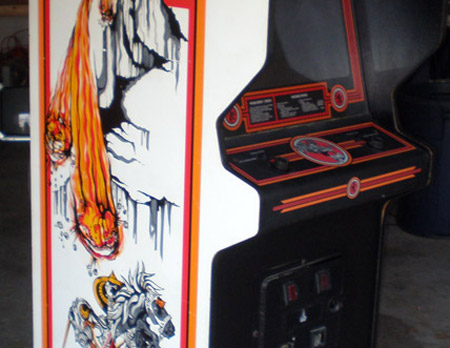 The game uses a black and white monitor that is mirrored with a color overlay and some textured terrain to give a very basic game some depth. This particular Warlords is in pretty decent condition, it only needed a cleaning with a magic eraser and some orange citrus, and will need a new front corner leg leveler – it had a small splint in its place.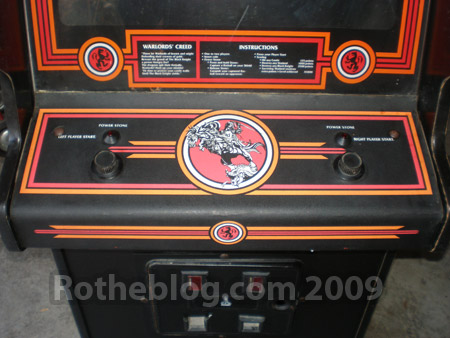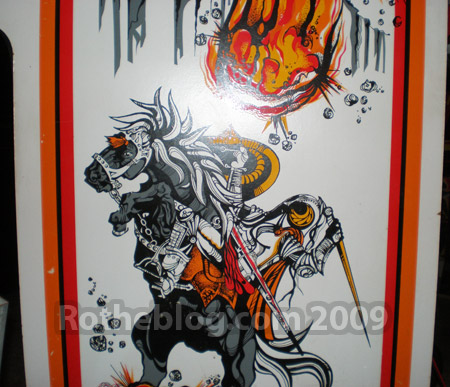 This Warlords ownership history
This Warlords had quite the little back-story. Rich S. said that he bid and won the Warlords on eBay, only, it was out east. So he planned his whole vacation where he could swing back through and pick it up. They went to the east coast, MA, NY and came back to Pittsburg PA at 2:30 on a Friday to get it and the arcade shop was closed. A retail store of some sorts. So, did he stay over? No! He drove all the way back out to Pittsburgh to get it three weeks later. Wow. And he was willing to trade it to me. Make me that much more appreciative. At nearly 320lbs, I'm not looking forward to putting this in the basement.
Warlords is a much more engaging Atari's Breakout
Ever played Breakout? You know the game, you have a paddle and bounce a ball around to break blocks. Warlords is like that, but instead of a dot, it's a blazing fireball that you bounce and break the opposing King's castles.
I played this game in person the first time at Troy Akey's in 2008 and although I think the four player cocktail beats the upright in playability, I am still an artwork guy, and the cocktail artwork basically stinks in comparison to the upright. Chris was equally impressed with the upright, right after the party he traded a Pooyan for it.
But as I played this game again at Chris Moore's party in October, I wasn't as wowed as I was the year prior. So I have to guess that when I run out of room and have a tough decision to make, this game may be up for sale. But that is a long way into the future, and its still a really fun two player game.
"Castles and Kings" – The Warlords Prototype
I am doing some research right now for photos of the Warlords prototype, Castles and Kings. I don't know that I'll be able to turn up anything, but a photo or two would be nice. If you can help me out getting some photos of one of the two Castles and Kings cabinets, or even just of the one or two control panels that have floated around over the years, drop me a line.
Here are some similar arcade posts
If you enjoyed this post, please consider to leave a comment or subscribe to the feed and get future articles delivered to your feed reader.