For the scanners out there, this story is not mine, and it is not recent. This is a story of a collector who has been doing this for 20+ years and has scored quite a few deals. This is just one of them, and it was more than just these four highly sought after arcade games.
Money talks – Major Havocs walk
I have never really inquired when this hobby really came into its own. I just assume arcade collecting really took off somewhere in the early 90's, around 1993-1994. These would have been the years to really find the 'rare' games, like you'll hear about in this story, but in the same token – within this little microcosm, there would have had to have been an established context and market for games for collectors to really have an idea of value.
But I digress. On with the story about a Rock-Ola Demon, Centuri Aztarac and a couple of Major Havocs that were already 'sold'.
Finding the warehouse of arcade games
Back in the early 90s, a former friend and fellow collector called me on a Thursday afternoon and said he had a line on a couple (!) dedicated Major Havoc machines. I asked him what the price tag was, and he said he thought they would go cheap – the guy said he wanted $150/machine. The word was that the guy also had a large warehouse full of 80s games that he wanted to get rid of, and he wanted them out NOW. I told my friend (who was very young at the time): "Dude, did you tell him they are SOLD, and we'd be there on Saturday with cash and a trailer?" Well, my pal hadn't, but quickly remedied the situation and called the operator back on Friday morning to let him know. The operator supposedly said, "Ok, come on out".
Out on the hunt
Saturday morning we head to Kalamazoo to pick up the stuff, see what else is there (there are three of us, including myself, the guy who made the find, and another collecting pal). I remember pulling up to the warehouse (which was very close to the freeway) and seeing a line (20+) games outside of the warehouse, including the two Havoc machines (!). It was pretty exciting, to say the least.
We park, get out, find the operator and let him know we're there for the arcade machines, and we'd like to see what else he has. Immediately he tells us, sorry, boys, those are sold. We were speechless!! How could someone have bought them from under us in a day?!?! I figured the guy must have been confused, thinking we weren't the guys who called.
Well, we let this simmer and started to look through the other stuff – and holy cow was there a lot of good stuff! I don't remember it all, but I do remember these:
Kozmik Kroozer
Upright Discs of Tron – Perfect, missing marquee and bottom, but otherwise perfect
Dark Planet
Rockola Demon – Complete, great shape
Aztarac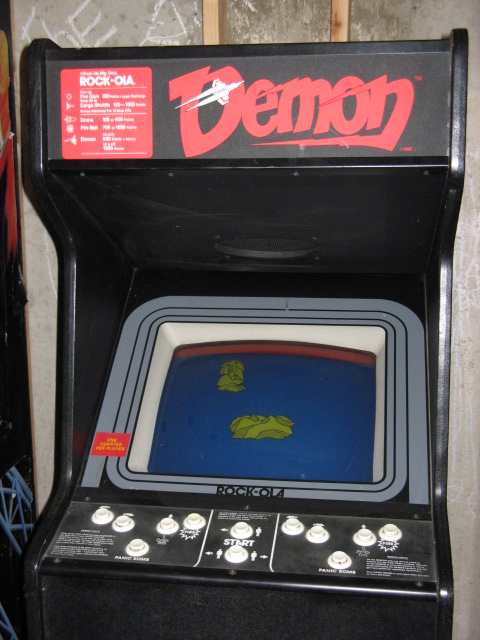 I have to play a Dark Planet someday.
Flyers Via:
Arcadeflyers.com
The offer for the Major Havocs
So, we casually strolled through the games, told the guy the ones we wanted, "Yea, I guess I could take that DOT off your hands…bulk buy, of course, right?" and tagged about 15 games for our purchase. The guy even had 2-3 containers (like, tractor-trailer sized) full of machines – it was nuts.
It was all great, and we were in heaven, but were still a little miffed internally that somehow we weren't getting the MH machines. Knowing many operators are simply businessmen (haha), I decided to give it one more shot (and I swear this was the conversation):
"Sir, so, those MH machines are sold?"
"Yep"
"Now, you're sure? Are they really sold, or you just need more than $150 per machine?"
"Ok, what are you saying?"
"What if I were to make you a better offer?"
"Twist my arm"
"Ok, how about….double. $300/machine?"
"Done."
"You're sure?"
"You're paying today, they're yours."
I almost swooned with arcade collecting joy. 🙂 So we put tags on all the games we were taking, rounded up the first trailer worth (including the MHs), and wrote the operator a check. We couldn't take everything in the U-haul trailer and had to come back on Monday for the rest….but, it was only a couple hours away and not a big deal.
What happened to the games from the warehouse
I don't remember everything we got that day, but I remember repairing the Demon and selling that to a fairly well-known arcade collector in Utah who runs a large ISP. One of my pals kept the DOT and found a marquee for it. I kept one Major Havoc and my pal kept the other, and when he moved to the west coast he kept it a while and then sold it off. I believe the Aztarac we got that day I kept…but hard to remember exactly (I do have an Aztarac, just don't remember which deal it came from — I've owned or co-owned three of those over the years).
The funny thing was: a few days later, my junior friend started catching hell from someone on the phone/online that we had "stolen" the games out from under him, that the warehouse was his find, etc.. I almost would have felt bad, if the complainer hadn't shared that he has been "working this place for five or six months" or something like that. Essentially, the guy kept going to the operator saying "I want this and this and this" and never bringing money or transportation!!
I think the moral to the story is, and this is something all new collectors should know: money talks, BS walks. I've collected games 20 years, and one thing is always certain: if you want to score, you need to be prepared with cash and transport when you go out hunting. You may only get one shot, and you shouldn't waste the time of the seller. There are no credit lines, there's no layaway plan – the guys will sell you the goods if you're ready to buy. If not, tough.
It seems so obvious it should go without saying, but I've seen it over and over ("Hey, I was WORKING that operator for years….and you just stepping in and bought all the good stuff!") If that was true, it would have been purchased and gone already.
Final Notes
If you were collecting back in the early 90's and remember other similar warehouse raids, if you think you have a better one, leave a comment or a link. I surely can't imagine what it must have been like to walk up to a warehouse and see a couple of Major Havocs sitting there, and just see containers of games like Dark Planet and Discs of Tron.
A more recent find that might compete was Joe M.'s Cosmic Chasm / Cube Quest story. I think that story was better, but this one might have had more market value in games. Hard to say. Agree?
Ah well. Thanks Mitch for sharing, what a great story – I am sure only one of many.
Here are some similar arcade posts
If you enjoyed this post, please consider to leave a comment or subscribe to the feed and get future articles delivered to your feed reader.