From a collectors standpoint, John Yates is an interesting fellow. Most of us know that he has a ton of games in some huge warehouse or government building in downtown McLean, IL, but have also heard some of the weird flip flopping stories about what was going on with those games. It seems now, that John has settled on the idea of an arcade game museum, and the photos from the initial launch are quite inviting.
An arcade museum, here in the Midwest
John Yates is a bit of an underground legend in collecting circles. Every couple of years, someone on one of the major forums will announce "I just found this guy in Illinois with a ton of games that is wanting to sell". Some of us nod, as we already know, and then it comes out that he is looking to get what I would call 'Christmas time' prices for the games and everyone forgets all about it.
When I heard that there was the possibility of a Museum opening in McLean, I was naturally skeptical. John's website has made different proclamations, even in the short time I've been collecting – one of them something about selling off everything and becoming a missionary, so I was cautiously hopeful. He is perfect guy to make an arcade museum, it seems as though he's got the resources, the knowledge (history | repair) and he certainly has the space and collection of games. Plus the location, as far as I'm concerned, is just about perfect, right here close to Chicago where a lot of this history exists.
Pre-Launch of the arcade museum
Right now the museum only has limited hours until full launch – probably when all games look amazing and are working, but the setting looks quite enticing.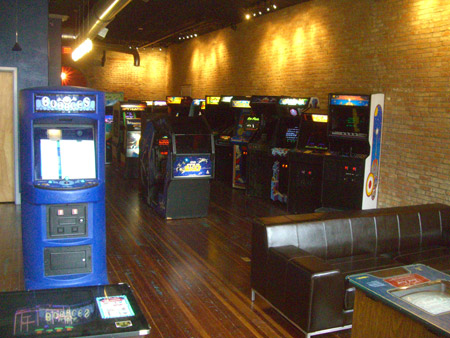 Click photo to see others at the museum website
I know I'd like to go, check out those games in the photos, and at least ask John to recount the stories I've heard only in rumors. I know they must be much more vivid coming directly from him. Who knows, maybe he'll even show one or two of us the rows of games he has lined up waiting in queue to be added to the museum.
Already visited 'America's Playable Arcade Museum'?
That is the name John has given the museum. Already been? Tell us a little bit about it, any stories John gave, any photos you took.
Here are some similar arcade posts
If you enjoyed this post, please consider to leave a comment or subscribe to the feed and get future articles delivered to your feed reader.