I've been swamped, with a major project that takes 12-14 hours on average every day of the week. I hope to turn a corner on that soon. Now that summer is here, it appears that some arcade movement has started – that first movement might be more of a body shaking shutter, but every other game looks uphill from here.
Free Road Blasters Arcade Cabinet
Not much to say about this thing. It wasn't pretty, which is why I got it for free. It was a nearly complete Road Blasters, just missing the monitor. Here it was.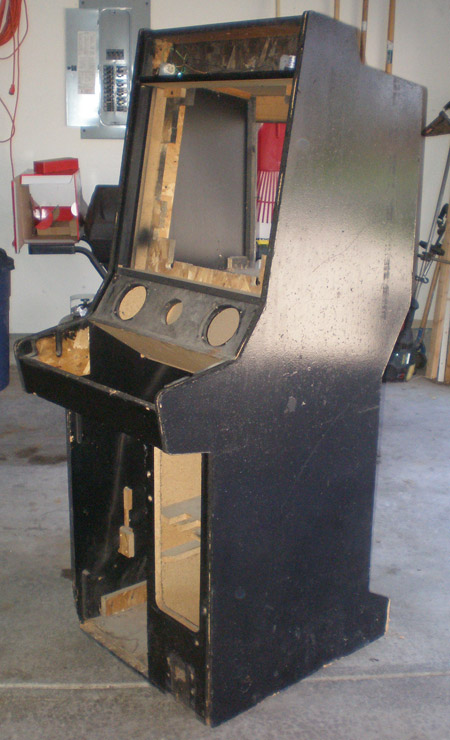 I brought it home, priced it to move on Craigslist for a cheap $25 and proceeded to gut the cabinet down to the last bolt. I was planning to keep it a week and if no one wanted to give it new life, time to get all Rhianna on it with a sledgehammer. Fortunately, after a couple of days a Mame guy came forward with plans to make it into a fighter. The cabinet will need a new bottom, but still cheaper than a $75-$100 empty fighter cabinet.
I love RoadBlasters so hauling it home was worth it for me. I plan to keep the boardset, harness, power supply, etc. in case I ever just stumble onto a nice looking Atari cabinet.
Need an empty Arcade Cabinet for a Mame project?
I get empty arcade cabinets from time to time in the Indianapolis Indiana area. Check out more information about that on my Mame arcade cabinet page. Most of them better than this one 🙂 If you need a cabinet, drop me a line and in the least I can put you in my file if I come across another empty.
Here are some similar arcade posts
If you enjoyed this post, please consider to leave a comment or subscribe to the feed and get future articles delivered to your feed reader.