In late 2008 I shared some photos of a Maze Man cocktail arcade game. One of many Pac-man bootlegs or knockoffs, I never guessed that they would have also made an upright machine as well. Check out the photo after the jump.
Maze Man upright arcade game
Unearthed in Lawton OK, I still don't know much more about this game beyond the fact that it was made by Entertainment Industries / Technology – possible Enterprise? Using arcadeflyers.com as a resource doesn't give us much of an indication, but does support the idea of an illegal bootleg.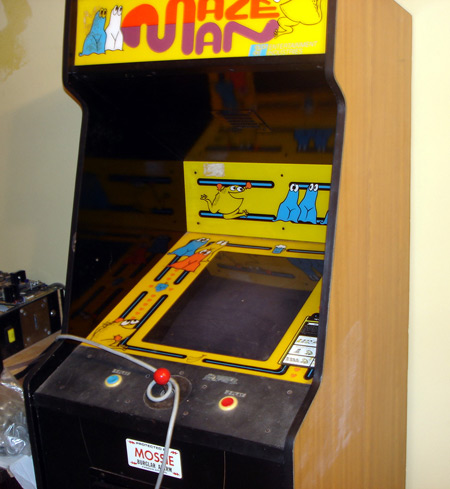 However, one clue – Dean on the Oklahoma forums posted that the PCB has some similarities to Falcon game boardsets. The first thought that popped into my head when I saw the photo brought me back to my post about Falcon games and the cabinet shape. This game has woodgrain sides, but that's not to say that an operator added vinyl to the sides somewhere in its life to cover up some faded flaking screened sideart. The guys at Phoenix Arcade (Not to be confused with Darin Jacob's artwork repro shop) found this machine, and that website is an interesting read if you have some time. An unfortunate story of a local arcade and a tremendous fire – hence the use of 'Phoenix'.
A Maze'ing deal for the right buyer
Those guys travel quite the distances to pick up games, I'd be interested to hear where they found this Maze Man. It certainly is what I would call a 'rare' game but that is no indication of value. Working, worth $100? Maybe $150 to the right buyer? It would be worth that to me and I'd buy it just because it is such and oddball piece, if they were one state over and not some 13 hours away….
What is your guess? Artwork underneath the woodgrain?
Here are some similar arcade posts
If you enjoyed this post, please consider to leave a comment or subscribe to the feed and get future articles delivered to your feed reader.