Timing is everything for collectors and Craigslist. I woke up Monday morning Aug. 9th and saw that a Pepper II arcade game was sitting on the curb somewhere in Indianapolis. I emailed the poster, and he let me know the game was actually in Lafayette. Plus the ad had been online since mid day Sunday, so the Pepper was gone, end of story. Or so I thought.
Pepper II on Craigslist – Unclaimed for 3 days!
Here is the story.
The weekend of Aug. 6-8th I got away for a little while – Chris and I took a trip to Columbus, OH to play arcade games for the weekend. We hung out with Greg, with one of the most amazing gamerooms I've ever seen, and we also made the effort to get out and meet a couple of other more experienced collectors. Beat from the weekend of relaxing ;), Sunday was low key before the grind started back on Monday.
Chris headed out Monday morning fairly early, and soon after I saw the Pepper II posting. Once I heard back from the poster I realized Chris was about :30 minutes north of Lafayette and needing to get back. I decided to not call him, he could back track a half hour on a wild goose chase for all I knew. Knowing that I had a busy week and that the Pepper II cabinet would surely be claimed soon, I archived the email.
Craigslist adventure – New life
Having already figured the Pepper was gone and end of story, I was extremely surprised to get an email Tuesday afternoon. The seller shoots me a message out of the blue to say "The Pepper is still sitting on the curb as of noon today".
Bizarre! I can't believe its still there. The few arcade game collectors in Lafeyette must not be active anymore.
Even this anomaly couldn't last and by the time I got home the Pepper cabinet would be gone. But I made some calls at 6:30 anyway to see if I could get some eyes on the ground.
I got a confirmation at 8:30 that the Pepper II arcade game was still sitting on the curb! Honestly, what the heck is going on?
Patiently waiting to get the game
By the time my wife got home to relieve me, it was after 10pm. It was going to be a long night and I'd be the only crazy person in the truck. Headed up to Lafayette, sure enough, there sat Pepper II with a lined piece of paper stuck to it reading "Free".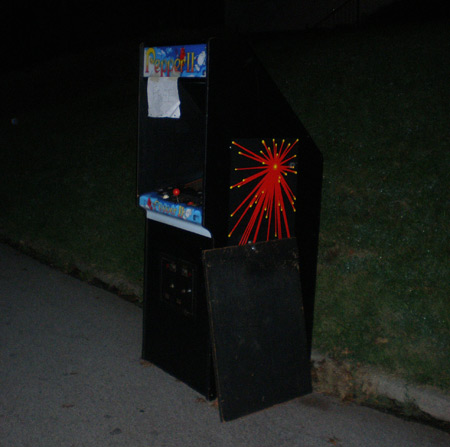 No one could tell from the photos what condition the game was in. Sadly, the sides are painted over in black with no indication that the original Pepper II sideart is still there. The back door absorbed some water from sitting on the curb and will need to be replaced. However, the control panel and artwork in general are in excellent condition. Time will tell if losing three hours of sleep will be worth it.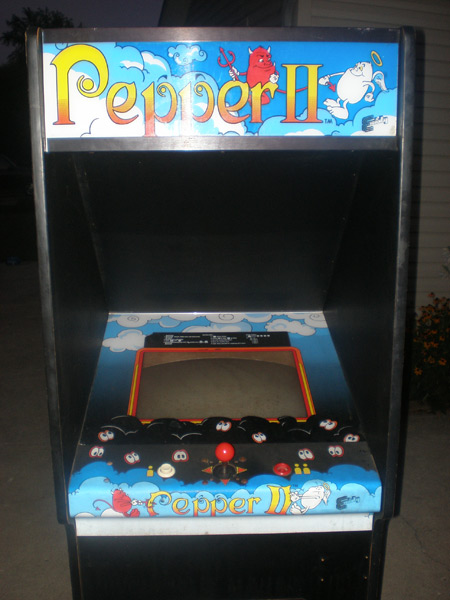 I loaded the cabinet up in the truck, made sure everything was secure and headed back home.
Pepper II for sale in Indianapolis
I don't plan to keep Pepper II, so it is currently up for sale with an offer pending. If you are interested and want to pick up in the Indianapolis area, drop me a line.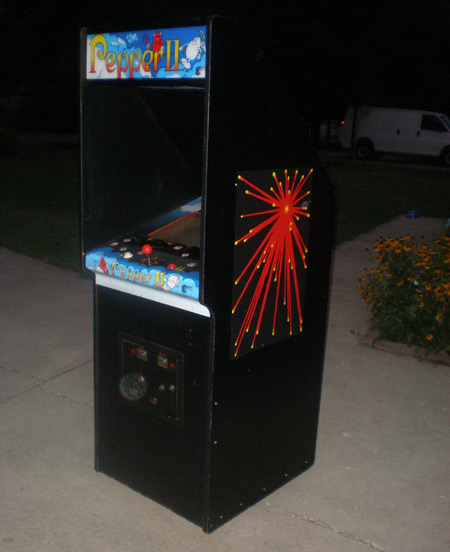 Here are some similar arcade posts
If you enjoyed this post, please consider to leave a comment or subscribe to the feed and get future articles delivered to your feed reader.