Today at Coinopspace.com, Alan McNeil (creator of both Berzerk and Frenzy) stopped by with members and chatted live, answering questions. During the course of the session, he shared a number of images from his personal collection pertaining to Berzerk, including what the original rendering of the Berzerk sideart looked like! Check it out, pretty amazing!
Berzerk prototype sideart / artwork rendering
Stern was always looking to cut costs. They were just entering the video game market with the purchase of a small outfit named URL. As they hired a young designer from Dave Nutting Associates by the name of Alan McNeil, they were looking to produce their first video game hit.
Alan wasn't going to get the chance to develop his own game at DNA, so he hopped ship and in the process, started a chain of events on Stern's most popular arcade game of all time.
Berzerk had some small road bumps (joystick, color gameplay), but sold nearly 50,000 units upon release. We all know and recognize the blue and red stenciled artwork, but what if the artwork looked like the original rendering! What artist rendering you ask? This one;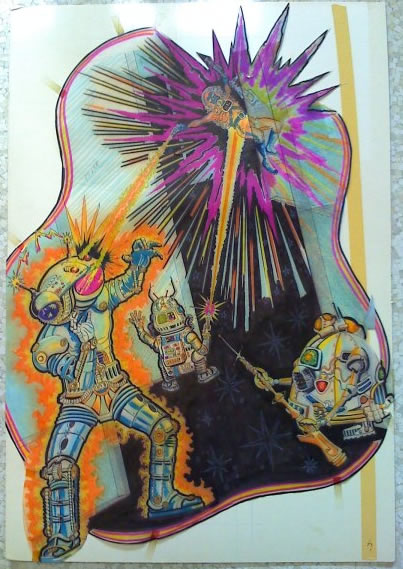 Pretty awesome rendering. I love it. I am not crazy about the color palette, I do love the original blue and red, but how different would Berzerk have looked with this style of artwork on the sides of the cabinet and the bezel.
Thanks for sharing Alan! Check out Alan's photo gallery at Coinopspace.com for a couple of other related images.
Here are some similar arcade posts
If you enjoyed this post, please consider to leave a comment or subscribe to the feed and get future articles delivered to your feed reader.