The Namco universe is out of balance. Just last night I was surfing and realized that Phoenix Arcade is now selling licensed vinyl Pac-man family artwork, and now this. 1/10th of the daily funny of dude running through U of M fishbowl chased by cloth ghost, it would be a success.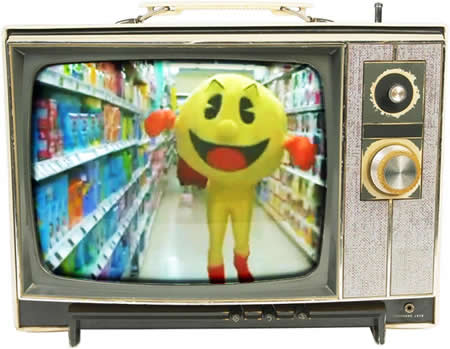 Live Pac-man – PelletFail?
Deadline.com reported on Thursday last week that we may see an unscripted live Pac-man themed TV show. Currently in development, here is an interesting quote from TV Roy Bank's myopic visionary Merv Griffith. Senor Merv sees the show as a "big, crazy Wipeout-type event with a lot of energy".
Here's my input Merv, because you asked for it.
Think Wipeout, but don't do wipeout. Make it a blend of something like Double Dare, Gladiators, Jeopardy and most importantly – Dodgeball! Add in some other eastern gameshow influences and you've got a winner.
I would tune in to watch 'Aw snap, ball in the face' before I'd watch a premise around Pac-man. Probably. They HAVE to dress up in the costumes though, definitely.
Just remember, "If you can dodge a wrench, you can dodge a ball" and "I'm on a boat".
Nonsense – out. Nod to Becky P. for tipping me off to this story.
For fun, Fox News shared this video of Pac-man as it is meant to be on live TV, short and hilarious. Wish I'd been on campus for this.
Here are some similar arcade posts
If you enjoyed this post, please consider to leave a comment or subscribe to the feed and get future articles delivered to your feed reader.